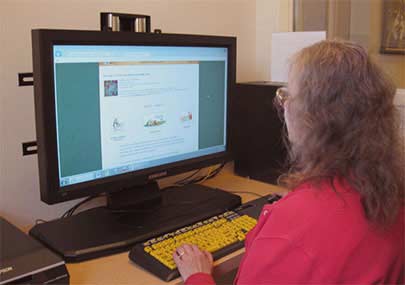 All Library branches and meeting rooms are ADA- (Americans with Disabilities Act) accessible. The Port Angeles Main Library provides a motorized scooter to assist with mobility.
All computers offer accessibility features that will magnify the screen or narrate what is on screen. If you cannot use a traditional keyboard, the Library's computers can display an on-screen keyboard. More information on ADA settings on library computers can be found on the ADA Computing Page.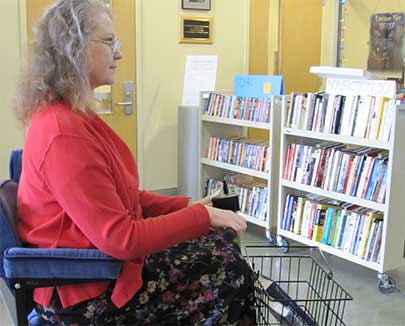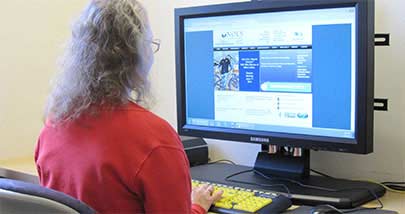 At the Port Angeles Library you will find a specially designed computer with an extra-large monitor, large high-contrast keyboard, and special software for magnifying and narrating what is on the computer screen. The library also has a magnification device for enlarging printed text. Staff will be happy to assist you with the special-use computer and the text-enlarger.
All equipment is available on a first-come, first-served basis during library open hours.
Each NOLS library has a selection of large print books, audiobooks on CD, and Playaways, which are particularly helpful to individuals with low vision. The library also offers DVDs available with closed-captioning options and audio description.
In general, most DVDs come with a subtitles or a closed caption option for the hearing impaired. Audio-described films make it possible for a person with visual impairments to both hear the dialog in a film and also to hear a description of the physical action taking place. To find which films provide this feature, search the catalog using this subject phrase: films for people with visual disabilities.
The entire collection of materials is accessible through the catalog. Materials may be shipped to the branch that is most convenient for you.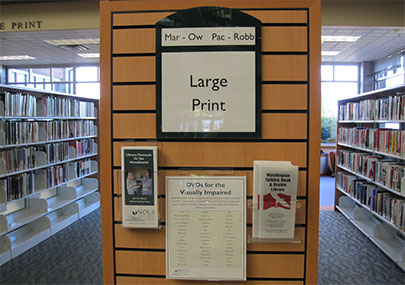 Is it difficult for you or a loved one to get out of the house to visit the Library? NOLS offers Library Outreach to people who are homebound. The Outreach Program provides free delivery of library materials and is available to those who are unable to get to the Library due to age, illness or disability. More information about the Outreach Program can be found here.
The Library can also connect you with the Washington Talking Book and Braille Library to access its services for persons with disabilities.