What does your library mean to you?
Library stories were collected during the 2018 Summer Reading Program as part of the annual Listen Up! Stories from the Northwest Corner oral history program. Thank you for sharing your story!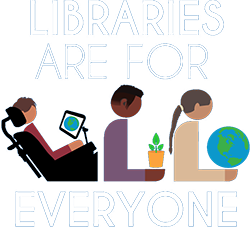 What does your library mean to you?
Notes
Jonathan Dukes

The library is a safe place for Jonathan Dukes; he can be himself and feels comfortable there. His earliest memory of the library is waiting for his mother to finish her taxes as a young kid. He talks about discovering a kids book in a Colorado public library that changed his life, and how NOLS compares to other libraries he's visited.
Notes
Catherine Jensen-Grey

Catherine Jensen-Grey grew up in a library and enjoys all that it has to offer: books, DVDs, a nice place to sit, and outreach programs. Her first library was tiny, and she was fascinated by the changing display near the entrance.
Notes
Donna Barr

Books, movies, a safe place, great librarians, a central public service, social events, education, wifi, computer access, clean water, bathrooms - in other words, socialism at it's BEST!
Notes
Avery Mills and Calliope Grattan

The library means so much to Avery and Calliope, and the kids section is their favorite part of the library.
Notes
Eileen Gieser

Eileen Gieser thinks the library is a great source for any question one might have, especially if you're new in town and the internet isn't yet set up! Her earliest and favorite library memories are of visiting her neighborhood Chicago branch with her mother.
Notes
Kate

I just joined the library today and LOVE it!

Great books, great people and a wonderful space.
Notes
Norm Yaro

The availability of DVDs and the most friendly, smiling and helpful staff.
Notes
Laura Olson

The library is wonderful and just a nice place to be, says Laura Olson. She gives praise for NOLS libraries, talks about reading a lot even at a young age, and remembers some of her favorite libraries.
Notes
Sue Scott

For Sue Scott, the library is where she goes for good entertainment! She's been a lifelong library user and her favorite memory of NOLS is the ILL Team finding her desired books.
Notes
Amy

Lives
Immersed in
Books are
Rich indeed
And she,
Rare friend and mentor,
Instilled in me
A love for the quest and the
Need to read.
Notes
Barbara

Place to go that is Peaceful - Quiet
Notes
Nova Raupp

The library is a place to get books and hang out with friends for Nova Raupp. He's met some new friends at the library, and his favorite memory of a NOLS library is discovering a new game and attending the Teen Lock-In for the first time.
Notes
Mary Meyer

For Mary Meyer, the library is a place to read the newspaper for free and checkout enjoyable books. She remembers visiting her North Seattle library branch as a youngster, and all of the special programs are her favorite NOLS library memories.
Notes
Donna Barr

The library is access to the world and Donna Barr is a serious supporter of libraries! She talks about growing up with a Carnegie Library and being a lifelong library user. Amazing books, movie nights, fabulous comic book collection, fun programs, and accessibility are her favorite NOLS memories.
Notes
Emily

I grew up in the library, and would come everyday after middle school and read juvenile fiction, particularly fantasy books. Now I'm halfway done with college and I come to the library on my lunch breaks to read Harry Potter. Thank you to everyone who has helped make this a great place (especially Ms. Patti).
Notes
Angelo Bergs

The library for Angelo Bergs means community - it's a safe, open space for everyone and provides access to information. The library was the place for him to find information on his own, and was a place to get shared experiences and wisdom.
Notes
Dan Barr

The library is a window of the world for Dan Barr; one where you can get escape, entertainment, and information. He grew up in rural Ohio and remembers visiting the bookmobile, a messenger of the world, for books as a child. His favorite NOLS memory is about the impressive ILL services and finding the books he would like to read.
Notes
Tyler

The Sequim library is a gift to our family. It gives us knowledge, community & imagination. It gives us knowledge through books & online resources. It gives community through dynamic children & adult enrichment programs. Finally, our library inspires imagination as exemplified by generous and creative staff members.
Notes
Mary

I can walk to my library and read the newspaper (Seattle Times). I can check out books and movies that I would otherwise have to buy. From time to time there are special events that enrich my life!
Notes
Anonymous

thank you!

YAY libraries!
Notes
Anonymous

Without our library our community would suffer culturally. The library habit is a constant renewal. Our library supports and enhances curiosity and wonder which are among life's essentials.
Notes
Marilyn Deane

Marilyn Deane has been coming to the Port Angeles Library for 45 years! She started visiting the library at a young age, and even loves to visit libraries while on vacation.
Notes
Nedra

I remember when our library was a book mobile, our son and I looked forward to book day! After moving from Clallam Bay to Forks, we had a real library in a building, we visited the world with our bedtime stories. Now our son is grown and we are "seniors". The library is a beautiful building, still an important part of our lives. Thank you.
Notes
Ruth

A LIBRARY HAIKU

Beautiful books here
Opening worlds of wonder
Must I journey home?
Notes
Elizabeth

My library means learning and reading.
Notes
Tungsten

It's helpful because you will learn more and more.