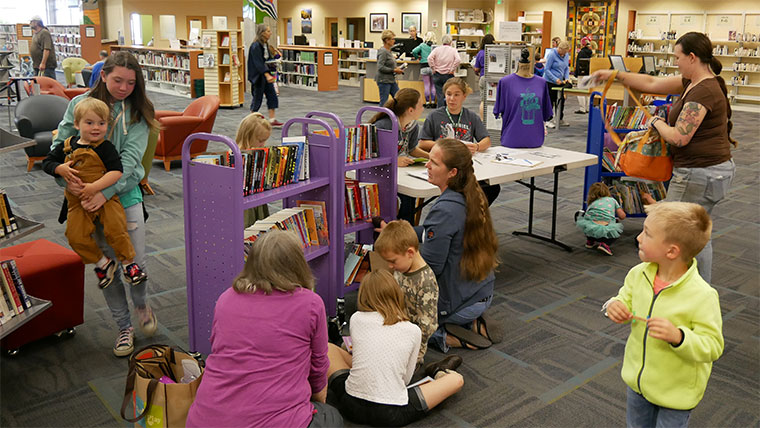 Your gift to the North Olympic Library System helps NOLS serve the community above and beyond what tax-based funding provides, and supports important library projects, like the Imagination Library, future bookmobile, and the
Sequim Library Capital Project
.
The Sequim Capital Project addresses critical facility needs through an expansion and renovation of the Sequim Branch Library. Community support of this project is essential for its success! Every contribution brings the project closer to a reality. To learn more about the project timeline and its funding, visit the Sequim Capital Project page. Email sequim@nols.org or call 360.683.1161 ext 7765 if you have any questions about supporting this exciting project.
Thanks to donations from individuals, businesses, Friends of the Library groups, and the North Olympic Library Foundation, NOLS is able to:
Provide more books and other materials.

Expand technology resources.

Offer more programs and events for children, teens, and adults.

Innovate, and implement special projects.

Nurture community partnerships.

Fund capital improvements and capital projects.

And more!
Memorial Gifts: Gifts may be made in honor or in memoriam of a person or event. Written acknowledgement of such a gift will be made to the donor and up to three other persons or entities.
Memorial Gift Funds: On occasion friends or family members ask the Library to establish a memorial gift fund to receive larger donations from multiple donors, in the name of a departed loved one.
The Streett Memorial Gift Fund has been designated to honor Robert Streett and Robby Streett, who died tragically in July 2017. The Streett Memorial Gift fund supports enhancements to the Sequim Branch Library. To donate to this fund, please indicate "Streett" anywhere on your donation.
Wills/Bequests: Leave a true legacy reflecting your love of libraries by naming North Olympic Library System in your estate plans. If you have a specific designation for your donation in mind, we encourage you to discuss your preferences with the Library in advance, to ensure your donation wishes can be met.