Sign your child up to receive a free book in the mail each month!
Dolly Parton's Imagination Library mails free books to children. Now, every child age 4 and under in Clallam County is qualified to receive a book by mail, at no cost to their families, every month until their fifth birthday!
Every year, a diverse batch of developmentally-appropriate books is selected for each age group including bilingual books in Spanish and English, with options for braille and audiobooks.
Register your children age 4 and under here. Questions about signing up? Email imagination@nols.org. In 6-9 weeks you'll receive your first book. After that, books will arrive monthly. The first book every child receives is The Little Engine That Could, which is Dolly Parton's favorite book. The message of the book is timeless, encouraging children to never give up, do their best, and stay positive no matter what.
*Registration is unavailable the 1st of every month for processing.
Access for the Visually Impaired
About Dolly Parton's Imagination Library
Since launching in 1995, Dolly Parton's Imagination Library has become the preeminent early childhood book gifting program in the world. The flagship program of The Dollywood Foundation has mailed well over 100 million free books in Australia, Canada, The Republic of Ireland, United Kingdom and the United States. The Imagination Library mails more than 1.4 million high-quality, age-appropriate books each month to registered children from birth to age five. Dolly envisioned creating a lifelong love of reading, inspiring them to dream.
The impact of the program has been widely researched and results suggest positive increases in key early childhood literacy metrics. Penguin Random House is the exclusive publisher for Dolly Parton's Imagination Library. For more information, please visit imaginationlibrary.com.
Sponsorship
This program is made possible by United Way of Clallam County, the North Olympic Library Foundation, and other local groups. Contributions are welcome to help support this special project. Contact United Way for details.
United Way of Clallam County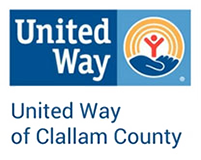 United Way of Clallam County envisions living in a place where everyone is supported socially, economically and in their physical and mental health. United Way of Clallam County's mission is to strengthen our community by helping people live safe, healthy, and productive lives. They do this by: being a constructive voice for human service needs in Clallam County; providing a way for people to give, advocate and volunteer in our community, and leading collaborative, community-wide efforts to obtain and provide resources to enhance community well-being. To learn more visit their website at www.unitedwayclallam.org.
North Olympic Library Foundation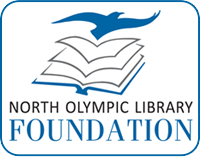 The North Olympic Library Foundation was created in 2012 to provide enduring support for the North Olympic Library System, its services, programs, and collections. The Foundation supports library related activities that help enrich lives and reach beyond library walls. For more information on the Foundation and its efforts, visit www.northolympiclibraryfoundation.org.