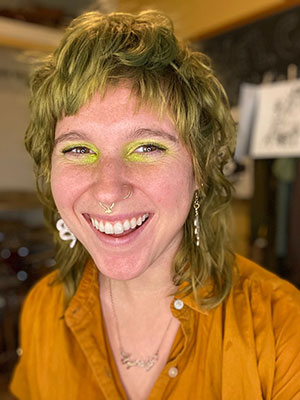 Meet Jaiden Dokken, the first Clallam County Poet Laureate!
Jaiden Dokken (they/them) is a local writer, printmaker, ceramicist, cidermaker, and self-described highly persistent penpal. Dokken's work has been published in Fiction International, Algorithm, Muses and Vices, SpeakEasy, Superfroot Magazine, and Pile Press. They are an editor and reader for Perennial Press.
Experiences unique to the North Olympic Peninsula resonate in poems by Jaiden, who grew up in Sequim and returned to live there as an adult. As Poet Laureate, they will bring poetry to residents across Clallam County by participating in events, leading workshops, and championing the community power of the written and spoken word.
Jaiden will serve as the Clallam County Poet Laureate from April 2023 through March 2025.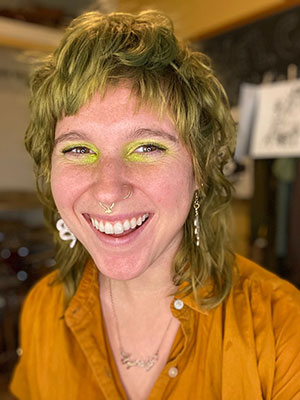 Community poetry opportunities
Email Jaiden at poetlaureate@nols.org to share your ideas about how you'd like to bring poetry to your community in Clallam County and to collaborate on events like poetry readings, workshops and interactive experiences.  Events with the Poet Laureate should be free and open to the public, with the exception of school or corrections facility visits.
Please allow time for Jaiden to review and respond to your email request, typically within two weeks.  Demand for the Poet Laureate can be high, and they will balance requests across the county.
For general questions about the Poet Laureate program, please email poetryprograms@nols.org.  To contact the Poet Laureate directly, email poetlaureate@nols.org.
Olympic Cellars, 255410 Highway 101, Port Angeles
Sunday, October 15, 3-5pm
Hosted by Clallam County Poet Laureate Jaiden Dokken, with live music by Ginny Holladay.
Sip wine, listen to live music, and write poetry! Work on your craft alongside other folks. Bring your drafts, or start something new!
Ongoing, 2023
Hurricane Coffee, 104 W Washington St, Sequim
Take a poem and leave a poem at this creative space designed with Clallam County Poet Laureate Jaiden Dokken.
Past Events
with Clallam County Poet Laureate, Jaiden Dokken.
Graphic Poetry Workshop with Nhatt Nichols & Jaiden Dokken
Thursday, September 14, Port Angeles Main Library
Attendees learned how to write and draw graphic poetry in this workshop for adults and teens.
Poetry Open Mic, First Friday Art Walk
September 1, 2023, Pacific Pantry, Sequim
Attendees enjoyed pizza and drinks while reading and listening to poetry at this outdoor open mic hosted by Jaiden.
Poetry Reading at Port Williams Beach
July 18, 2023
A poetry reading and community open mic at Port Williams Beach, complete with a book swap.
Sequim Pride
June 17, 2023, Sequim Farmers & Artisans Market
A poetry reading to kick off Pride Market Day.
Poetry in the Park
June 17, 2023, Summertide Solstice Art Festival
A poetry reading in the courtyard of the Port Angeles Fine Arts Center to celebrate Summertide Poets.
SisterLand Farms Presents: Coming Out! A Pride Picnic
June 3, 2023, B&B Lavender Farm, Sequim
The potluck picnic included a clothing swap, story slam, craft tables, health and wellness resources, and more. Jaiden Dokken closed out the story slam with a poetry reading.
Poetry Zines
May 28, 2023, Juan de Fuca Festival, Port Angeles
Participants learned how to create their own zines at this free activity in the Community Tent.
Open Mic Poetry Night
May 9, 2023, Sekiu Community Center
Community members shared their own poetry or favorite works by other poets.
Grow Your Poetry Workshop
April 27, 2023, Locally Known Cowork, Sequim
Participants wrote poetry on wildflower seed paper to plant and watch their words bloom!
Clallam County Poet Laureate Inauguration
April 18, 2023, Port Angeles Main Library
At this public celebration, Jaiden Dokken was inaugurated as the first Clallam County Poet Laureate and gave a reading of their poetry.
About the Poet Laureate Position
The Poet Laureate will serve a two-year term, bringing poetry to residents of the county by participating in events, leading workshops, and championing the community power of the written and spoken word throughout Clallam County. The term begins in April 2023 and runs through March 2025.
A major goal of the Clallam County Poet Laureate program is to use poetry to bring a variety of voices and perspectives to culturally diverse audiences throughout the county, and to bring communities together through poetry. Poetry helps us to see, understand and think about our community and our world through a different lens and challenges us to reconsider the common ties that bind us together.
This position comes with an annual stipend of $5,000 ($10,000 total), funded by Clallam County, in recognition of the appointed poet's time and energy in participating in or hosting events as well as to support the poet's craft and practice.
Clallam County Poet Laureate Inauguration
Watch the inauguration of Clallam County's first Poet Laureate! Featuring opening remarks from County Commissioner Mark Ozias and a poetry reading from Jaiden Dokken. Event took place on Tuesday, April 18 at the Port Angeles Main Library.
Clallam County Poet Laureate Recommends