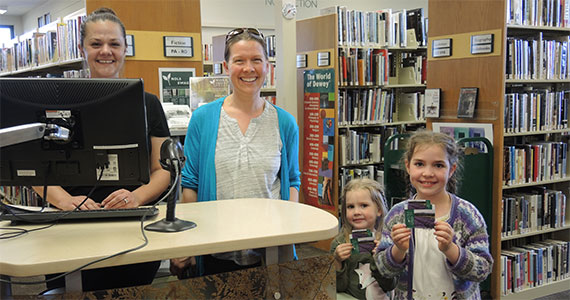 Beginning September 1, 2019, your library is fine free! The North Olympic Library System will no longer charge overdue fines for items returned late. This change helps ensure equitable and free access to library materials and services for everyone in our community.
NOLS is not alone in eliminating fines. Libraries across North America are going fine free to reduce access barriers. Earlier this year the American Library Association passed a resolution encouraging libraries to eliminate fines. You can read the NOLS Board of Trustees resolution about going fine free, and the reports that underlay that decision, here.
It's good for our community. Our community is stronger and healthier when all people have access to the programs, services, and materials they need to pursue their educational, career, family, and life goals regardless of their ability to pay for them. Removing fine barriers encourages prior users to come back to the library, and attracts new users who can benefit from library offerings.
Overdue fines are not effective. Studies, and the experience of fine-free libraries, suggest that small fines have no impact on return rates, and may in fact discourage the return of library materials.
It's good for relationships. When you walk through the doors of your library, staff want to help you, not badger you about a late fine. Going fine free makes a trip to the library more pleasant – for everyone.
It's a more cost effective use of staff time. Collecting, counting, and processing fines takes a lot of staff time on a daily basis – time that can be much better spent providing valuable library services and programs.
The Library will no longer charge daily fines for overdue items. If an item is damaged or lost, replacement fees will still apply.
After September 1, 2019, all existing overdue fines and processing fees will be waived from all patron accounts. Fees for replacement items or damaged items will remain.
The quickest way to find out what charges are on your account is to log into your account here or contact library staff at any NOLS branch.
"No fines" does not equal "no responsibility." Accounts with an item 14 days overdue will be blocked from checking out material. Additionally, 21 days after the final due date, an item will be considered lost and a replacement fee will be charged. Reminder notices about overdue material will also be sent more frequently to help get materials returned sooner.