Art in the Library is a program sponsored by the North Olympic Library System, which provides display space for works created by Clallam County artists. Art in the Library exhibits rotate on a regular two or three month schedule.

Art in the Library at the Port Angeles Main Library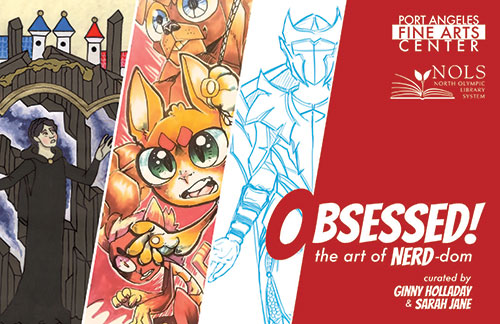 Co-curated by Sarah Jane & Ginny Holladay, the new exhibit Obsessed: The Art of Nerdom will be on display at the Port Angeles Fine Arts Center and the Port Angeles Main Library from January 11 through March 15. Reclaiming the once-perjorative term "nerd" to mean anyone who obsesses over created content, the exhibit takes a glimpse into the artistic side of nerd culture and our innate desire to expand upon the creative content we love. With artwork ranging from literary illustration to comics to game design, this exhibit celebrates the irrepressible creativity and playfulness of nerd culture in the Northwest.
Art in the Library at the Sequim Branch Library
The current Art in the Library Ocean Arts exhibit features the work of several local artists and will be on display through January 30.
Featured artists include Anna Blanchard, Eva Kozun, Greg MacDonald, Janet Flatley, Jordan Huber, Judy Larimore, Ken Kennedy, Melinda Jane Reed, Michelle Gould, Sandy Placek, Sandy Wolf, Susan McDougall, Suzan Noyes, and Tom Blanchard.
Art in the Library is generously funded by the Friends of Sequim Library.
The Art in the Library program would not be possible without:
Financial support from the Port Angeles Friends of the Library and the Friends of the Sequim Library.
The commitment and generous donation of their time by volunteer Art in the Library coordinators.
The creativity and community involvement of local artists.