Sequim Library Project Background
Sequim Future Library Project Background
The current Sequim Branch was built in 1983 to serve a population of approximately 14,000. During the last 35 years the Library has evolved and expanded to meet the needs of a growing population and a changing society. Now serving a population of around 30,000, the Sequim library facility is still only 6000 square feet small.
• limited shelving space, seating space, parking, mobility access, and natural lighting,
• dated network infrastructure, insufficient power outlets and data ports,
• undersized meeting rooms, no conference or quiet study spaces,
• minimal display areas, and no interior book returns
These are just a few examples of the ways that 21st century reality is not well supported by 1980s design.
Here is some background information about the Future Library planning project: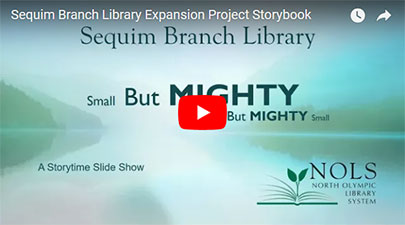 it@nols.org
2018-05-15T13:45:29+00:00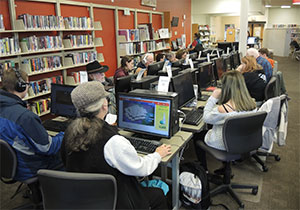 However you quantify it, the existing Sequim Branch building is simply too small – even for current use.
Opened to the public in 1983, the Sequim Branch Library consists of 6,000 sq ft of space. With a collection of over 55,000 items, it includes study and reading areas for adults, public computers, areas for children and teens, and a community meeting room.
The Sequim Branch is one of four NOLS libraries, serving a population of about 30,000 on the east end of Clallam County. Five times smaller than the Main Library in Port Angeles, usage statistics are surprisingly comparable.