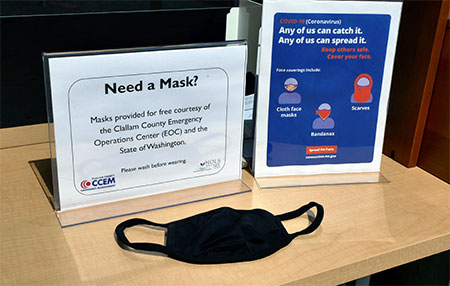 During Curbside Hours: M-F 11-5 at all branches, & Sat 10-2 at FO, PA, & SQ
The North Olympic Library System is proud to partner with the Clallam County Emergency Operations Center to provide FREE masks to the public. Free cloth masks are available in Port Angeles, Sequim, Forks, & Clallam Bay branches during curbside service hours. NOLS recognizes that masks are not easily accessible to many individuals in our community. During this time, when masks are required in public spaces, it is paramount that people have access to this essential personal protection equipment. Masks are available while supplies last; please take only what you need for yourself and family.
Curbside service is available at all branches Monday – Friday 11am-5pm. Curbside service is available at the Port Angeles, Sequim, and Forks branches on Saturday 10am-2pm.