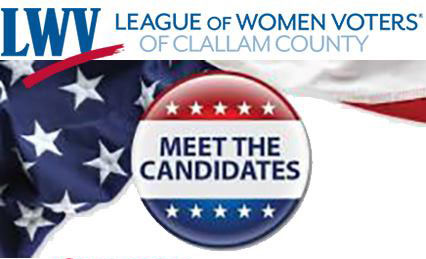 The League of Women Voters of Clallam County (LWVCLA), in partnership with NOLS, will facilitate and are seeking questions from the public for four General Election Candidate Forums in October, listed below.
At each Forum, participating candidates will be invited to provide their qualifications, state why they are running, and state their goals for the office, if elected. The Forum Moderator will then pose questions that have been provided by the public.
All community members and organizations are encouraged to submit questions. Questions must be either:
Emailed to the League at info@lwvcla.org
Submitted to the League's web site at lwvcla.org/forums or
Mailed to: PO Box 1092, Carlsborg, WA 98324.
Preference will be given to questions received within three days prior to the Forum and seven days prior to the Forum if mailed to the PO Box. Questions received less than three days prior to the Forum will be considered as time permits. When submitting Forum questions, please advise in which city or county you are registered to vote, and at which Forum you wish your question to be asked.

The League of Women Voters is a national nonpartisan, non-profit organization whose purpose is to promote the informed and active participation of citizens in government. Candidate Forums are one of the most important activities our League supports in our mission to Empower Voters and Defend Democracy. Citizens can register to vote online at https://voter.votewa.gov/WhereToVote.aspx.
Recordings of each Forum will be posted afterwards at lwvcla.org/forums. Additional information about the Forums, including the Clallam League's Candidate Forum Policy may also be accessed there.