Documentary Nights! at the Sequim Branch Library
Join your friends and neighbors for eye-opening journeys and inspired stories from some of today's most innovative and gifted filmmakers during Documentary Nights! at the Sequim Branch Library. Films from around the world will be shown at
6pm every fourth Tuesday, January through June.
The "Documentary Nights!" program series will take place in the library meeting room, and is free to attend.
This program is generously supported by the Friends of Sequim Library.
Tuesday, February 28, 6pm: The Great Alone
This 2015 film directed by Greg Kohs captures the inspiring comeback story of champion sled dog racer, Lance Mackey, in Alaska's 1000+ mile Iditarod race
Tuesday, March 28, 6pm: Usual and Accustomed Places
Makah filmmaker Sandra Johnson Osawa examines the fishing rights of Native Americans, discovering more about her own family history along the way. Osawa is an essayist and poet whose narration brings an intimacy to the history of broken treaties in this 2000 film.
Tuesday, April 25, 6pm: The Color of Honor
Filmmaker Loni Ding offers a vivid, collective portrait of the Japanese-American experience in World War II, following the 442nd Regimental Combat Team—the most decorated military unit in U.S. history—and the Military Intelligence Service (M.I.S.)—the linguists who decoded Japanese military plans—as well as the thousands of draft resisters and army protesters who challenged the constitutionality of the internment camps.
Tuesday, May 23, 6pm: Driving with Selvi
"Driving with Selvi" follows the inspiring story of Selvi, South India's first female taxi driver, as she takes control of both the steering wheel and her future during a courageous transformation from abused child bride to empowered working mother. Through Selvi's eyes, the audience is led on an intimate journey of healing, overcoming obstacles, and fulfilling dreams. This 2015 film was directed by Elisa Paloschi.
Tuesday, June 27, 6pm: Haida Gwaii: On the Edge of the World
This inspiring and hopeful story set on the pristine Haida Gwaii archipelago shows how the distinct worldviews of this 14,000-year old society is co-mingling with an influx of progressive, modern urbanites to create a sustainable life amid the challenges of the 21st century. Charles Wilkinson directed this 2015 film in Haida Gwaii, formerly known as the Queen Charlotte Islands, off the North Coast of British Columbia.
---
Microsoft Office Specialist Certification March 21 - 23
The North Olympic Library System, in partnership with the Washington State Library, is offering multiple testing sessions for the Microsoft Office Specialist (MOS) certification exams at NO CHARGE March 21 - 23. Market value for a MOS exam is typically between $99 and $130 per exam, depending on the location. The Microsoft Technology Associate (MTA) certification exams will also be available free of charge during all test sessions. Testing will be held at the following NOLS locations and times:
Forks Library
March 21st, 1 - 3pm Register
Port Angeles Main Library
March 22nd, 5 - 7pm Register
Sequim Library
March 23rd, 10 - 12pm Register
Limited space is available and registration is required. Multiple one-hour sessions are available at this event, but it is only possible to take one exam per session (you have 50 minutes to complete each exam). If you wish to take multiple exams, please register for multiple sessions. If you're unable to attend one of the designated testing sessions, contact ehelp@nols.org to schedule an individual testing appointment with library staff. More information for exam takers can be found here.
The Imagine Academy
To help prepare for success on MOS exams, Washington residents can take online courses through the Microsoft Imagine Academy Program FREE through the North Olympic Library System website. The Microsoft Imagine Academy offers hundreds of introductory classes covering everything from sending and receiving emails to navigating the web. Popular courses cover the basics of Office 2010 and 2013, Word, Excel, Outlook and PowerPoint. These digital literacy courses help students learn the essential skills to begin computing with confidence, be more productive at home and at work, stay safe online and take advantage of new career opportunities. For more practiced users and IT professionals, the academy offers courses tackling advanced subjects such as SQL Server, ASP.NET, Visual Studio and Microsoft Dynamics.
All Imagine Academy courses are conducted in one-on-one virtual sessions and are free of charge with your library card. Free certificates of completion can be downloaded at the conclusion of each course, and official Microsoft Certification and testing is also available.
Access to the Imagine Academy is made possible through an ongoing public-private partnership between Microsoft, the Washington State Library, the Office of Secretary of State and the Washington State Legislature.
To get started, visit the NOLS Microsoft Imagine Academy here. Once enrolled, explore the catalog of courses and continue the self-paced coursework on any computer at the library, or at home from a personal computer.
---
Flatverse Coding Camp
Have you ever wanted to try designing your own computer video game? Give it a shot this February and March at the Port Angeles and Sequim Branch libraries! Flatverse Coding Camps will offer participants of all ages weekly opportunities to experiment with an interactive programming environment from Microsoft Research.
This free camp is for all ages and consists of four consecutive weekly two-hour sessions.
Laptops will be provided, and registration is required.
Port Angeles Main Library camps:
Thursdays, 5:30pm-7:30pm
Registration closed
February 2
February 9
February 16
February 23
Sequim Branch Library camps:
Fridays, 4pm – 6pm
Registration is currently full.
Click here to sign up for the wait list.
March 3
March 10
March 17
March 24
This program is made possible by a grant from the Washington State Library.
---
Advanced Planning Seminars
Tuesday, March 7, 1:30pm, Port Angeles Main Library
Monday, March 13, 9:30am, Sequim Branch Library
Have you been meaning to update your Living Will and Health Care Power of Attorney or just want to communicate better with your friends and family about their plans? This seminar will guide attendees through the End of Life Washington Advance Directive, which combines a Living Will and a Durable Power of Attorney for Health Care into one document.
Participants will learn about how to communicate their end-of-life wishes to loved ones and to physicians; the presenters will cover various End-of-life choices and the free services of End of Life Washington. Participants will also be guided through the process of documenting their wishes about the kind of medical care they do or do not want at the end of life.
There is no cost for the seminar, documents or Advance Directive notarization. The seminars are expected to last about 3 hours. With class sizes limited, preregistration is recommended. To register for the Port Angeles seminar, visit the Port Angeles Main Library Events Calendar, at www.nols.org, call 360.417.8500 or email . To register for the Sequim seminar, visit the Sequim Branch Library Events Calendar, at www.nols.org, call 360.683.1161, or email . All materials will be provided.
About Karen Griffith and Judy McCay
Karen and Judy are sisters who became interested in end-of-life planning as they were taking care of their father who was in hospice. Karen is a former Director of Volunteer Services at a hospice in Salt Lake City. She is currently on the board of the Hospice Foundation for Jefferson Healthcare. Judy is as passionate about end of life issues as she cared for her husband in the months before his death. It was at that time that they become familiar with the work of End of Life Washington (EOLWA) and the Death with Dignity option. Four years ago, Karen become a Client Support Volunteer with them, assisting clients through the process to obtain life-ending medications and attending their deaths. Judy has joined her 2 years ago as a member of EOLWA's Speakers Bureau.
The sisters now travel around the state educating people on their end-of-life options and particularly the need to have completed with Advance Health Care Directives. As they get older, the end-of-life choices become less theoretical and much more real and they have a real passion to educate and help people walk that final journey.
These events are offered free to the public through the generous support of the Port Angeles Friends of the Library, and Friends of Sequim Library.
---
Art in the Library at the Sequim Branch Library
The current Art in the Library exhibit features the paintings, prints, and sculptures of Jerry Owie, and will be on display from February 3 through May 30 at the Sequim Branch Library.
This program has been made possible by generous contributions from the Friends of Sequim Library. More information about Art in the Library can be found here.
---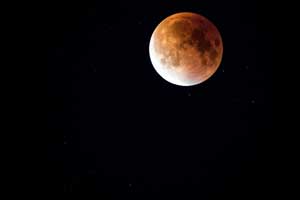 Telescopes available!
Thanks to a generous donation from Forks Elks Lodge 2524, telescopes are available for checkout at all NOLS branches. Each scope is equipped with accessories to help Library patrons view the night sky, including a pocket constellation guide, beginner's instruction manual, and a headlamp to aid in nighttime viewing. Library telescopes may be borrowed for up to one week. To place a hold request, visit the Library catalog and search for "telescopes." Hold requests can also be made by calling the library or visiting any of the four NOLS branches in Clallam County.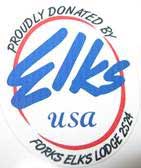 ---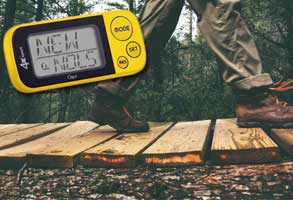 New! Pedometers now available at your Library
Stride toward healthy living with NOLS pedometers, now available for checkout at all Library locations! Whether you're exploring new wilderness trails or strolling through your daily activities, now you can keep track of how many steps you take and calories you burn.
What's inside?
Each pedometer may be borrowed for up to one week, and comes equipped with easy quick-start instructions. To place a hold, call or visit any NOLS branch library, or visit the online catalog.
For additional information about NOLS pedometers and other nontraditional items available for checkout, contact Erin Shield 360.417.8500 ext. 7724, or send an email to .
---
Uncover new resources: iPads now available @ NOLS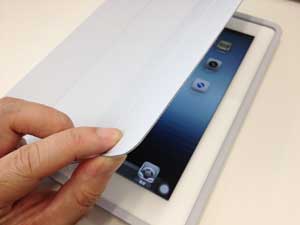 Borrow an iPad tablet to use during your next visit to NOLS!
Library card holders in good-standing may borrow an iPad on a first-come, first-served basis for up to two hours at a time.

The new devices, to be used inside the library, are ideal for research, personal browsing, or to experience the Library's many downloadable resources—including streaming movies, TV shows, and audiobooks.

Questions? Ask NOLS staff for assistance!
---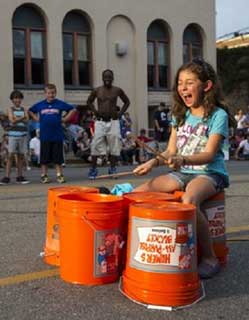 Rhythm Buckets at your Library
Get ready to make some music! Rhythm Buckets for drummers of all ages are now available for checkout at all NOLS library locations. Big Rhythm Buckets for adults and Lil' Rhythm Buckets for younger drummers offer library card holders a fun, free, and easy way to learn while playing the buckets themselves and the assortment of noisemakers inside.
What's inside
Each bucket comes with all the discovery tools you'll need for successful rhythm-making: drum sticks, various hand percussion instruments like shaker eggs, kalimbas, and guiros, as well as music instruction books for both adults and kids. Patrons may borrow each bucket for up to three weeks. To place a hold, call or search the online catalog for "Rhythm Buckets."
For additional information about NOLS Rhythm Buckets and other nontraditional items available for checkout, contact Erin Shield 360.417.8500 ext. 7724, or send an email to .
---
Put your communication in motion!
Two-way radios now available for checkout at your library.
Let the exploring begin! Walkie-talkie two-way radios are now available for checkout at all NOLS library locations. The radios, which patrons may borrow for three weeks, are perfect for camping, hiking, hunting, and other fun adventures.
Each walkie-talkie will operate for up to 10 hours, and comes with rechargeable batteries and a charging station. With a range of up to 35 miles, NOLS two-way radios allow you to roam widely without losing touch. Additional safety features include a built-in flashlight, weatherproof design to prevent dust and moisture from interfering with functionality, and National Oceanic and Atmospheric Administration (NOAA) channels to help keep you alerted to extreme weather conditions like flash floods or blizzards. The radios also come equipped with an optional silent vibrating ringer.
To checkout a set of walkie-talkies, stop by your nearest NOLS library or place a hold by visiting the
library catalog.
More information
For additional information about NOLS walkie-talkies and other nontraditional items available for checkout, contact Erin Shield at 360.417.8500 ext. 7724, or send an email to .
---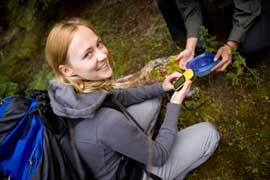 Geocaching Kits at Your Library
Hunt for treasure with a little help from modern technology! NOLS is introducing three geocaching kits that are now available for checkout. Using the global positioning system (GPS) and your wits, geocaching brings together a love of the outdoors and modern tools of navigation. Geocaches may be found anywhere, and the basics of the game are simple: Participants select a cache from a website; after a cache is selected, the coordinates to the location are entered or downloaded onto a GPS device. It is then up to the players to use their navigational and detective skills to seek out the hidden container. Caches may contain simply a logbook for those who've found it, or perhaps a small treasure to share. Participants traditionally leave an item in exchange for any they might take.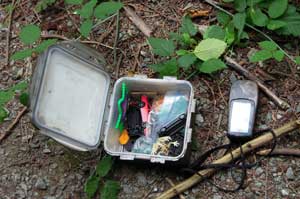 What's inside
Each kit, housed in a backpack donated by Swain's General Store, comes with all the tools you'll need for successful geocaching: a Garmin eTrex10 GPS device, The Complete Idiot's Guide to Geocaching, and a quick start guide. Patrons may borrow each kit for up to three weeks. To reserve a kit, call or visit any NOLS library, or visit the online catalog at www.nols.org.
---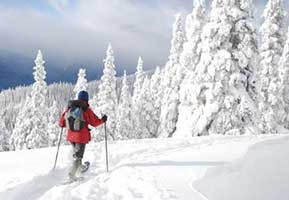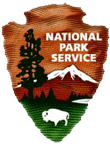 Get Out and Explore Olympic!
Winter is a great time for a new adventure. Olympic National Park and the
North Olympic Library System have teamed up to help local families explore the spectacular national park in our own backyard. Explore Olympic! daypacks are available for check out at any NOLS branch. Daypacks are filled with discovery tools for exploring the park, including trail and field guides, binoculars and reading materials for kids. Families who check out a pack will receive a seven-day entrance to Olympic National Park thanks to a generous donation from Washington's National Park Fund.