ADULT SUMMER READING PROGRAM
JUNE 20 — August 20
Click here for summertime concert and
event schedules, and more.
---
Outdoor Summer Concerts
Bring your lawn chair, a blanket, some good eats, and enjoy live tunes at the Sequim Branch Library's annual Summertime Music Outdoor Concert Series!
In case of inclement weather, concert to be held indoors at the Sequim Branch Library.
Dirty Beat Duo
Friday, July 22, 6pm, Sequim Branch Library
This groovy duo will stop at nothing to create and perform the most danceable cross genre, cross generational electronic dance music known to the planet. Dirty Beat Duo embodies voracious beats and playful, pulsing, positive vibes that unite our community and evolve our spirit.
Lobo Del Mar
Friday, July 29, 6pm, Sequim Branch Library
Travel the world with the music of Lobo Del Mar, a Celtic band and dance troupe performing music and dance from around the globe. Audiences are given a taste of the family's mixed heritage, as well as all the beautiful places this family has called home. Musical repertoire includes Celtic music, bagpipes, Irish Step Dance, Flamenco, Mexican music, bluegrass, Western Swing, Polynesian music and dance, and bellydance!
Delta Rays
Friday, August 5, 6pm, Sequim Branch Library
The Delta Rays have played their spicy blend of Zydeco, R&B, Irish fiddle, Tex-Mex accordion, Gypsy folk, and swing music around the Peninsula for more than 20 years.
Bushwick Book Club
Friday, August 12, 6pm, Sequim Branch Library
The Bushwick Book Club Seattle delivers literature, music, and songwriting to the community while building the next generation of musicians and readers. This rotating group of musicians will perform original music inspired by a variety of different books with the intent of inspiring literature and music lovers alike!
Community Contra Dance
Saturday, August 20, 6pm, Sequim Branch Library
Bring your dancing shoes and join the fun during an all-ages community contra dance with caller Sherry Nevins. Accompanying tunes provided by Master Fiddler Rodney Miller and Alex Sturbaum on guitar.
(In case of inclement weather, dance to be held indoors at
Sequim High School Cafeteria, 601 N Sequim Ave.)
---
Listen Up! Stories from the Northwest Corner
Curious about the next Listen Up theme? We'll begin to record stories from veterans in late August and early September. If you or someone you know is interested in sharing a story, please contact us at – we'd love to hear from you!
To kick-off the Listen Up program, sixteen interviews were collected in spring of 2016 about personal experiences in national parks. The complete recordings can be found at the Washington Rural Heritage website. We also compiled some of our favorite stories from the recordings into a video – click here to watch!
---
Art in the Library at the Sequim Branch Library
The summer Art in the Library exhibit features the pastel works of Eileen Gieser, and will be on view from June 3 through October 3 at the Sequim Branch Library.
This program has been made possible by generous contributions from the Friends of Sequim Library. More information about Art in the Library can be found here.
---
Uncover new resources: iPads now available @ NOLS
Borrow an iPad tablet to use during your next visit to NOLS!
Library card holders in good-standing may borrow an iPad on a first-come, first-served basis for up to two hours at a time.

The new devices, to be used inside the library, are ideal for research, personal browsing, or to experience the Library's many downloadable resources—including streaming movies, TV shows, and audiobooks.

Questions? Ask NOLS staff for assistance!
---
Rhythm Buckets at your Library
Get ready to make some music! Rhythm Buckets for drummers of all ages are now available for checkout at all NOLS library locations. Big Rhythm Buckets for adults and Lil' Rhythm Buckets for younger drummers offer library card holders a fun, free, and easy way to learn while playing the buckets themselves and the assortment of noisemakers inside.
What's inside
Each bucket comes with all the discovery tools you'll need for successful rhythm-making: drum sticks, various hand percussion instruments like shaker eggs, kalimbas, and guiros, as well as music instruction books for both adults and kids. Patrons may borrow each bucket for up to three weeks. To place a hold, call or search the online catalog for "Rhythm Buckets."
For additional information about NOLS Rhythm Buckets and other nontraditional items available for checkout, contact Erin Shield 360.417.8500 ext. 7724, or send an email to .
---
Put your communication in motion!
Two-way radios now available for checkout at your library.
Let the exploring begin! Walkie-talkie two-way radios are now available for checkout at all NOLS library locations. The radios, which patrons may borrow for three weeks, are perfect for camping, hiking, hunting, and other fun adventures.
Each walkie-talkie will operate for up to 10 hours, and comes with rechargeable batteries and a charging station. With a range of up to 35 miles, NOLS two-way radios allow you to roam widely without losing touch. Additional safety features include a built-in flashlight, weatherproof design to prevent dust and moisture from interfering with functionality, and National Oceanic and Atmospheric Administration (NOAA) channels to help keep you alerted to extreme weather conditions like flash floods or blizzards. The radios also come equipped with an optional silent vibrating ringer.
To checkout a set of walkie-talkies, stop by your nearest NOLS library or place a hold by visiting the
library catalog.
More information
For additional information about NOLS walkie-talkies and other nontraditional items available for checkout, contact Erin Shield at 360.417.8500 ext. 7724, or send an email to .
---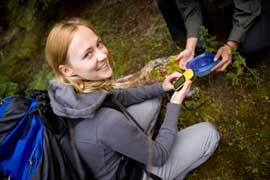 Geocaching Kits at Your Library
Hunt for treasure with a little help from modern technology! NOLS is introducing three geocaching kits that are now available for checkout. Using the global positioning system (GPS) and your wits, geocaching brings together a love of the outdoors and modern tools of navigation. Geocaches may be found anywhere, and the basics of the game are simple: Participants select a cache from a website; after a cache is selected, the coordinates to the location are entered or downloaded onto a GPS device. It is then up to the players to use their navigational and detective skills to seek out the hidden container. Caches may contain simply a logbook for those who've found it, or perhaps a small treasure to share. Participants traditionally leave an item in exchange for any they might take.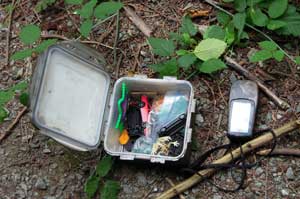 What's inside
Each kit, housed in a backpack donated by Swain's General Store, comes with all the tools you'll need for successful geocaching: a Garmin eTrex10 GPS device, The Complete Idiot's Guide to Geocaching, and a quick start guide. Patrons may borrow each kit for up to three weeks. To reserve a kit, call or visit any NOLS library, or visit the online catalog at www.nols.org.
---
Get Out and Explore Olympic!
Winter is a great time for a new adventure. Olympic National Park and the
North Olympic Library System have teamed up to help local families explore the spectacular national park in our own backyard. Explore Olympic! daypacks are available for check out at any NOLS branch. Daypacks are filled with discovery tools for exploring the park, including trail and field guides, binoculars and reading materials for kids. Families who check out a pack will receive a seven-day entrance to Olympic National Park thanks to a generous donation from Washington's National Park Fund.
---
Free Pool Passes
Notice: The Sequim Aquatic Recreation Center (SARC) will close indefinitely beginning Friday, October 30, 2015. As a result, NOLS pool passes will be suspended. This closure does not affect passes to the William Shore Memorial Pool in Port Angeles. For additional information, contact NOLS Technical Services Manager Erin Shield at 360.417.8500 ext. 7724.