Explore! with NOLS
The Explore! program series offers an introduction to a range of activities available on the Olympic Peninsula and beyond. From travel and rhythm to DIY bike maintenance and nature photography, this program series will inspire, educate and help you take the first step toward your next adventure. This program is generously supported by the Friends of Sequim Library.
Explore! Maidentrip: Thursday, February 11, 6pm
Winner of the Port Townsend Film Festival Special Jury Prize for Best First Feature, Maidentrip tells the story of 15-year-old explorer Laura Dekker as she sets out—camera in hand—on a two-year voyage in pursuit of her dream to be the youngest person ever to sail around the world alone.
Explore! Bike Maintenance:
Wednesday, March 9, 6pm
Have you found yourself enjoying a bike ride only to be stopped by what seemed to be a simple repair? Experts from Ben's Bikes will offer guidance and tips for performing simple roadside repairs to get you rolling on the trails this spring!
Explore! The Rhythm of TaKeTiNa:
Wednesday, April 6, 6pm
Zorina Wolf, advanced TaKeTiNa leader and pan-African drum teacher, will lead this one-hour interactive rhythm workshop. Everyone is welcome, beginners and musicians, alike! TaKeTiNa was developed in 1970 by Austrian musician Reinhard Flatischler. Today it is used in university music departments, clinics, therapeutic practices, drama schools, in pain therapy, and management settings.
Explore! Backyard Birds:
Wednesday, May 25, 6pm
Birds aren't just a lot of fun to follow, they are central players in what goes on in many familiar ecosystems. This class will expand your understanding of these feathered wonders of nature. The Dungeness River Audubon Center will identify the special character of species you can expect to encounter in your own backyard.
---
Art in the Library at the Sequim Branch Library
The Winter Art in the LibraryArt in the Library exhibit will be on display at the Sequim Branch Library from December 4, 2015, until March 1, 2016, and features the artwork of Jarrod Jackson.
Jackson graduated from the Art Institute of Chicago and now resides in Sequim. His drawings and paintings draw inspiration from the beautiful and sublime aspects of the natural landscape. To view more of his work, visit www.jarrodjacksonart.com.
---
Rhythm Buckets at your Library
Get ready to make some music! Rhythm Buckets for drummers of all ages are now available for checkout at all NOLS library locations. Big Rhythm Buckets for adults and Lil' Rhythm Buckets for younger drummers offer library card holders a fun, free, and easy way to learn while playing the buckets themselves and the assortment of noisemakers inside.
What's inside
Each bucket comes with all the discovery tools you'll need for successful rhythm-making: drum sticks, various hand percussion instruments like shaker eggs, kalimbas, and guiros, as well as music instruction books for both adults and kids. Patrons may borrow each bucket for up to three weeks. To place a hold, call or search the online catalog for "Rhythm Buckets."
For additional information about NOLS Rhythm Buckets and other nontraditional items available for checkout, contact Erin Shield 360.417.8500 ext. 7724, or send an email to .
---
Put your communication in motion!
Two-way radios now available for checkout at your library.
Let the exploring begin! Walkie-talkie two-way radios are now available for checkout at all NOLS library locations. The radios, which patrons may borrow for three weeks, are perfect for camping, hiking, hunting, and other fun adventures.
Each walkie-talkie will operate for up to 10 hours, and comes with rechargeable batteries and a charging station. With a range of up to 35 miles, NOLS two-way radios allow you to roam widely without losing touch. Additional safety features include a built-in flashlight, weatherproof design to prevent dust and moisture from interfering with functionality, and National Oceanic and Atmospheric Administration (NOAA) channels to help keep you alerted to extreme weather conditions like flash floods or blizzards. The radios also come equipped with an optional silent vibrating ringer.
To checkout a set of walkie-talkies, stop by your nearest NOLS library or place a hold by visiting the
library catalog.
More information
For additional information about NOLS walkie-talkies and other nontraditional items available for checkout, contact Erin Shield at 360.417.8500 ext. 7724, or send an email to .
---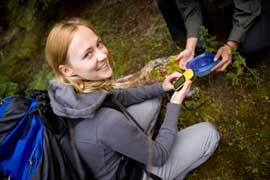 Geocaching Kits at Your Library
Hunt for treasure with a little help from modern technology! NOLS is introducing three geocaching kits that are now available for checkout. Using the global positioning system (GPS) and your wits, geocaching brings together a love of the outdoors and modern tools of navigation. Geocaches may be found anywhere, and the basics of the game are simple: Participants select a cache from a website; after a cache is selected, the coordinates to the location are entered or downloaded onto a GPS device. It is then up to the players to use their navigational and detective skills to seek out the hidden container. Caches may contain simply a logbook for those who've found it, or perhaps a small treasure to share. Participants traditionally leave an item in exchange for any they might take.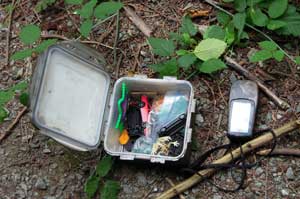 What's inside
Each kit, housed in a backpack donated by Swain's General Store, comes with all the tools you'll need for successful geocaching: a Garmin eTrex10 GPS device, The Complete Idiot's Guide to Geocaching, and a quick start guide. Patrons may borrow each kit for up to three weeks. To reserve a kit, call or visit any NOLS library, or visit the online catalog at www.nols.org.
---
Get Out and Explore Olympic!
Winter is a great time for a new adventure. Olympic National Park and the
North Olympic Library System have teamed up to help local families explore the spectacular national park in our own backyard. Explore Olympic! daypacks are available for check out at any NOLS branch. Daypacks are filled with discovery tools for exploring the park, including trail and field guides, binoculars and reading materials for kids. Families who check out a pack will receive a seven-day entrance to Olympic National Park thanks to a generous donation from Washington's National Park Fund.
---
Free Pool Passes
Notice: The Sequim Aquatic Recreation Center (SARC) will close indefinitely beginning Friday, October 30, 2015. As a result, NOLS pool passes will be suspended. This closure does not affect passes to the William Shore Memorial Pool in Port Angeles. For additional information, contact NOLS Technical Services Manager Erin Shield at 360.417.8500 ext. 7724.