---
Summertime Music! Outdoor Concert Series
Your lawn chair, a blanket, and some good eats are all you need to enjoy live tunes at the Sequim Branch Library's annual Summertime Music! Outdoor Concert Series. Bring your family, bring your friends, and have some fun!
All concerts begin at 6pm on the outdoor stage behind the Sequim Branch Library.
Friday, July 10: Joy In Mudville
Joy In Mudville includes Jason Mogi and Kim Trenerry, co-founders of popular local bands Deadwood Revival and Tongue & Groove. Together they combine influences from old-time bluegrass, folk, rock, country, blues, funk, and even acoustic Grateful Dead!
Friday, July 24: Witherow
Sweethearts Abby Mae and Dillan Witherow are taking the Northwest by storm. They've been featured on the PBS television program PIE, and one of their Seattle shows was selected as one of "the best moments of 2013" by music critic Adrienne Pollock. Witherow's vocals, musicianship, and unique brand of acoustic rock will leave you asking for more.
Friday, August 14: Fat Chance
Fat Chance has been playing all over the Olympic Peninsula for more than 30 years. The band consists of John Christensen on bass and vocals, Jeff Joaquin on guitar, Max Fernades on guitar and mandolin, and Joel Nilsen on drums. With their wide variety of originals and classic covers, they're sure to get your toes tapping!
Friday, August 28: Ranger and the "Re-Arrangers"
Ranger and his father Michael formed Ranger and the "Re-Arrangers" in 2006. In the years since, the band has released three CDs and played over 600 shows. Ranger and the "Re-Arrangers"evoke the spirit of a Paris café and the raucous energy of a Gypsy campsite with their unique twist on Gypsy Jazz. The band's repertoire includes swing standards, traditional Gypsy melodies, the music of Django Reinhardt, and Ranger's unique originals.
---
ASRP: Superhero America: The Comic Book Character as Historical Lens
T. Andrew Wahl, head of the journalism program at Everett Community College, will present "Superhero America: The Comic-Book Character as Historical Lens" at 1pm on Thursday, July 23, at the Sequim Branch Library, and again at 6pm at the Port Angeles Main Library. This multimedia presentation will connect comic book superheroes (and the occasional villain!) to historical topics including war, the advancement of civil rights, and the societal impacts of technology.
This 2015 Adult Summer Reading Program event is generously supported by the Port Angeles Friends of the Library, Friends of Sequim Library, and Humanities of Washington. For additional information about upcoming ASRP events, contact Librarian Sarah Morrison at 360.417.8500 or .
---
Art in the Library at the Sequim Branch Library
The Summer Art in the Library exhibit will be on display at the Sequim Branch Library between June 5 and August 31, and features the vibrantly whimsical, surf-inspired watercolors of Todd Fischer.
The program has been made possible by generous contributions from the Friends of Sequim Library. More information about Art in the Library can be found here.
---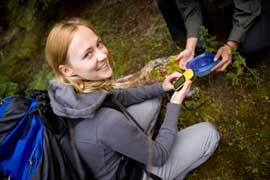 Geocaching Kits at Your Library
Hunt for treasure with a little help from modern technology! NOLS is introducing three geocaching kits that are now available for checkout. Using the global positioning system (GPS) and your wits, geocaching brings together a love of the outdoors and modern tools of navigation. Geocaches may be found anywhere, and the basics of the game are simple: Participants select a cache from a website; after a cache is selected, the coordinates to the location are entered or downloaded onto a GPS device. It is then up to the players to use their navigational and detective skills to seek out the hidden container. Caches may contain simply a logbook for those who've found it, or perhaps a small treasure to share. Participants traditionally leave an item in exchange for any they might take.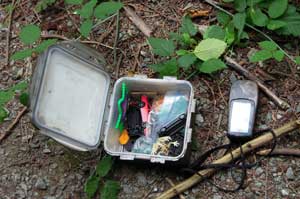 What's inside
Each kit, housed in a backpack donated by Swain's General Store, comes with all the tools you'll need for successful geocaching: a Garmin eTrex10 GPS device, The Complete Idiot's Guide to Geocaching, and a quick start guide. Patrons may borrow each kit for up to three weeks. To reserve a kit, call or visit any NOLS library, or visit the online catalog at www.nols.org.
---
Get Out and Explore Olympic!
Winter is a great time for a new adventure. Olympic National Park and the
North Olympic Library System have teamed up to help local families explore the spectacular national park in our own backyard. Explore Olympic! daypacks are available for check out at any NOLS branch. Daypacks are filled with discovery tools for exploring the park, including trail and field guides, binoculars and reading materials for kids. Families who check out a pack will receive a seven-day entrance to Olympic National Park thanks to a generous donation from Washington's National Park Fund.
---
Free Pool Passes available now
Lift some weights, go for a swim, take an exercise class, or just splash around! The North Olympic Library System (NOLS) has partnered with the Sequim Aquatic Recreation Center (SARC) in Sequim to make two free passes available for checkout beginning November 3. Whether alone or with the entire family, SARC passes give library card holders a free, fun and easy way to test the waters and stay active.
How to use your pool pass
One pass is for individuals who'd like to try one of the many classes offered at SARC – everything from Tai Chi to water aerobics. The second pass grants up to six household members access to workout, cardio, and weight rooms, in addition to open swim and family fun night. Patrons may borrow each pass for up to one week.
Reserving your pass & Additional information
Patrons may borrow each pass for up to one week. Pool passes have been generously donated by the Sequim Aquatic Recreation Center. To place a hold request search for "SARC pool pass." Hold requests can also be made by calling the library or visiting any of the four NOLS libraries in Clallam County.