SARC Pool Closure
The Sequim Aquatic Recreation Center (SARC) pool will close for maintenance on Sunday, April 26, and will reopen Monday, May 25. All NOLS Pool passes will be made inactive during this time and all hold requests will remain in their current order. Pool passes will be reactivated on Monday, May 25.
For more information, contact NOLS Technical Services Manager Erin Shield at
---
Lego Challenge 35 pieces - 45 minutes!
10AM – Session One
11AM – Session Two
12PM – Session Three
LegoŽ Challenge is an opportunity for participants to see how many objects they can create with 35 pieces in 45 minutes as demonstrated in author Sean Kenney's
"Cool Creations in 35 Pieces". Children may work on the kit alone or with a friend.
Space is limited - 15 kits per session. Advance registration is required. Register online through the Sequim Branch Events calendar, call 360.683.1161, or email .
---
ASRP: The Adventures of Robots, Rovers, and Astronauts in the Third Age of Exploration
Escape the Ordinary with the Adult Summer Reading Program! Ron Hobbs' presentation on space exploration kicks off two months of events, presentation, and opportunities to participate at all NOLS branches. Ron's free presentation, "The Adventures of Robots, Rovers, and Astronauts in the Third Age of Exploration" will be given on:
Sequim Branch Library, Wednesday, June 3, 1pm
Forks Branch Library, Wednesday, June 3, 6pm
Port Angeles Main Library, Thursday, June 4, 6pm
This 2015 Adult Summer Reading Program event is generously supported by the Port Angeles Friends of the Library and the Friends of Sequim Library. For additional information about upcoming ASRP events, contact Librarian Sarah Morrison at 360.417.8500 or .
---
Sequim Art in the Library Opening Reception featuring a live performance by Ojos Feos.
Portland Oregon based band Ojos Feos will be performing at 6:30pm on Friday, June 5 at the Sequim Branch Library during the June Art Walk artist reception featuring watercolor artist Todd Fischer.
Ojos Feos is a musical group that describes itself as Afro-Latin Blues with a social conscience. Mastered in the Pacific Northwest but with roots in Africa, Mississippi, Cuba, Jamaica, Spain and the Andes; Ojos Feos plays all original compositions blending minor blues and flamenco progressions with Afro-Latin rhythms and jazz chords, structured with an upbeat and driving tempo.
The core of the music is led by the steady drumming of Dr. Dave Fischer, decorated and defined on bongos and congas by virtuoso percussionist Giovani Cruz and delivered by the groovy bass lines of El Caminante, who also contributes on guitar and composition. Gaia Oyarzun lends her smooth and soulful blues voice to mesmerize the audience in Spanish, English and African languages. Chilean guitarist and dub/effects specialist Gonzalo Villa adds crafty guitar hooks and slick solos. Gonzalo also arranges and produces the all-original music with multi-lingual vocalist and multi-instrumentalist, Robbie Cree.
Vibrantly whimsical, surf-inspired watercolors created by Todd Fischer will be on display. Todd is based on the Olympic Peninsula, and finds his inspiration from surfing, the power of the ocean, and his surrounding environment. Over the years Todd carved his artistic niche in the world of cartoons, cars and caricatures. The surfing bug he inherited from his father carried him from California to Mexico and continues to influence his adventurous, yet family-oriented lifestyle.
The Summer Art in the Library exhibit will be on display at the Sequim Branch Library between June 5 and August 31.
This free Art in the Library program is generously supported by the Friends of Sequim Library.
---
Celebrate Wilderness! at the Sequim Branch Library
In an ongoing celebration of the Wilderness Act's 50th anniversary, the Sequim Branch Library will be displaying a portion of the Wilderness art show that was recently on exhibit at the Port Angeles Main Library.
The Spring Art in the Library exhibit will be on display at the Sequim Branch Library from March 6 until June 1, and feature vivid photography by local artists James Jackson and Dave Shreffler.
The program has been made possible by generous contributions from the Friends of Sequim Library.
More information about Art in the Library can be found here.
---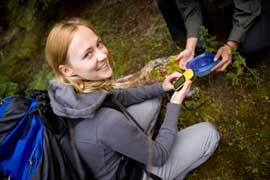 Geocaching Kits at Your Library
Hunt for treasure with a little help from modern technology! NOLS is introducing three geocaching kits that are now available for checkout. Using the global positioning system (GPS) and your wits, geocaching brings together a love of the outdoors and modern tools of navigation. Geocaches may be found anywhere, and the basics of the game are simple: Participants select a cache from a website; after a cache is selected, the coordinates to the location are entered or downloaded onto a GPS device. It is then up to the players to use their navigational and detective skills to seek out the hidden container. Caches may contain simply a logbook for those who've found it, or perhaps a small treasure to share. Participants traditionally leave an item in exchange for any they might take.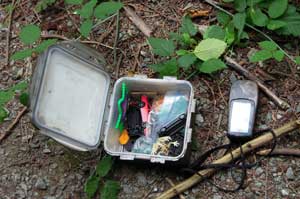 What's inside
Each kit, housed in a backpack donated by Swain's General Store, comes with all the tools you'll need for successful geocaching: a Garmin eTrex10 GPS device, The Complete Idiot's Guide to Geocaching, and a quick start guide. Patrons may borrow each kit for up to three weeks. To reserve a kit, call or visit any NOLS library, or visit the online catalog at www.nols.org.
---
Get Out and Explore Olympic!
Winter is a great time for a new adventure. Olympic National Park and the
North Olympic Library System have teamed up to help local families explore the spectacular national park in our own backyard. Explore Olympic! daypacks are available for check out at any NOLS branch. Daypacks are filled with discovery tools for exploring the park, including trail and field guides, binoculars and reading materials for kids. Families who check out a pack will receive a seven-day entrance to Olympic National Park thanks to a generous donation from Washington's National Park Fund.
---
Free Pool Passes available now
Lift some weights, go for a swim, take an exercise class, or just splash around! The North Olympic Library System (NOLS) has partnered with the Sequim Aquatic Recreation Center (SARC) in Sequim to make two free passes available for checkout beginning November 3. Whether alone or with the entire family, SARC passes give library card holders a free, fun and easy way to test the waters and stay active.
How to use your pool pass
One pass is for individuals who'd like to try one of the many classes offered at SARC – everything from Tai Chi to water aerobics. The second pass grants up to six household members access to workout, cardio, and weight rooms, in addition to open swim and family fun night. Patrons may borrow each pass for up to one week.
Reserving your pass & Additional information
Patrons may borrow each pass for up to one week. Pool passes have been generously donated by the Sequim Aquatic Recreation Center. To place a hold request search for "SARC pool pass." Hold requests can also be made by calling the library or visiting any of the four NOLS libraries in Clallam County.