Sequim Art in the Library Opening Reception featuring a live performance by No Batteries Required
Local barbershop quartet No Batteries Required will perform at 6:30pm on Friday, September 4, at the Sequim Branch Library.
This First Friday Art Walk performance will take place during an after-hours reception to celebrate the opening of the new Art in the Library exhibit,
featuring work by local artist Vana Arnold.
About No Batteries Required
The award-winning No Batteries Required features members of the Olympic Peninsula Men's Chorus as well as the local chapter of the Barbershop Harmony Society. Bud Davies (baritone), Jim Muldowney (bass), Rich Wyatt (tenor), and Rich Johnston (lead) bring a wealth of experience and infectious joy to their lively interpretations of your favorite hits.
About the Artist
Sequim-based artist Vana Arnold works primarily in colored pencil.
Arnold loved to draw from a young age, and finds her inspiration in the great outdoors. Her detailed and colorful illustrations bring animals to life before your eyes. Arnolds' work will be on display in the library from September 3 until December 1, 2015.
---
Vellamo, Folk-Pop Music from Finland
Friday, September 18, 6:30pm
Vellamo is the performing and songwriting team of Pia Leinonen and Joni Tiala. Their music is characterized by haunting melodies, Pia's ethereal lead vocals and Joni's virtuosic guitar stylings. They sing instantly memorable songs in English as well as their native Finnish, and also perform traditional ballads from the Celtic and Scandinavian folk traditions.
Curious? Listen to Vellamo's music at https://soundcloud.com/vellamo.
The program has been made possible by generous contributions from the
Friends of Sequim Library.
---
A Taste of Southeast Alaska
Wednesday, October 7 @ 6pm
Bear-viewing guide Mozelle Maness, who has guided visitors to observe Southern Alaska's Herring Cove bears for many years, will show two short films about the region—"The Bush Pilots" and "A Fish Story"—and discuss her experiences there. Light, bear-approved snacks will also be served. This program is made free to the public with generous contributions from the Friends of Sequim Library.
---
Art in the Library at the Sequim Branch Library
The Fall Art in the Library exhibit will be on display at the Sequim Branch Library between September 3 and December 1, 2015, and features the illustrations of colored pencil artist Vana Arnold.
This program has been made possible by generous contributions from the Friends of Sequim Library. More information about Art in the Library can be found here.
---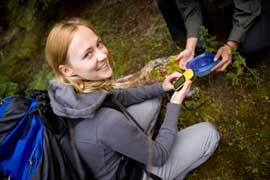 Geocaching Kits at Your Library
Hunt for treasure with a little help from modern technology! NOLS is introducing three geocaching kits that are now available for checkout. Using the global positioning system (GPS) and your wits, geocaching brings together a love of the outdoors and modern tools of navigation. Geocaches may be found anywhere, and the basics of the game are simple: Participants select a cache from a website; after a cache is selected, the coordinates to the location are entered or downloaded onto a GPS device. It is then up to the players to use their navigational and detective skills to seek out the hidden container. Caches may contain simply a logbook for those who've found it, or perhaps a small treasure to share. Participants traditionally leave an item in exchange for any they might take.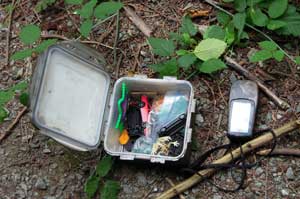 What's inside
Each kit, housed in a backpack donated by Swain's General Store, comes with all the tools you'll need for successful geocaching: a Garmin eTrex10 GPS device, The Complete Idiot's Guide to Geocaching, and a quick start guide. Patrons may borrow each kit for up to three weeks. To reserve a kit, call or visit any NOLS library, or visit the online catalog at www.nols.org.
---
Get Out and Explore Olympic!
Winter is a great time for a new adventure. Olympic National Park and the
North Olympic Library System have teamed up to help local families explore the spectacular national park in our own backyard. Explore Olympic! daypacks are available for check out at any NOLS branch. Daypacks are filled with discovery tools for exploring the park, including trail and field guides, binoculars and reading materials for kids. Families who check out a pack will receive a seven-day entrance to Olympic National Park thanks to a generous donation from Washington's National Park Fund.
---
Free Pool Passes available now
Lift some weights, go for a swim, take an exercise class, or just splash around! The North Olympic Library System (NOLS) has partnered with the Sequim Aquatic Recreation Center (SARC) in Sequim to make two free passes available for checkout beginning November 3. Whether alone or with the entire family, SARC passes give library card holders a free, fun and easy way to test the waters and stay active.
How to use your pool pass
One pass is for individuals who'd like to try one of the many classes offered at SARC – everything from Tai Chi to water aerobics. The second pass grants up to six household members access to workout, cardio, and weight rooms, in addition to open swim and family fun night. Patrons may borrow each pass for up to one week.
Reserving your pass & Additional information
Patrons may borrow each pass for up to one week. Pool passes have been generously donated by the Sequim Aquatic Recreation Center. To place a hold request search for "SARC pool pass." Hold requests can also be made by calling the library or visiting any of the four NOLS libraries in Clallam County.