All-Staff Training Day Closure
Monday, October 24, all branches
All NOLS locations will be closed on Monday, October 24, for an all-staff training day.
Library branches in Port Angeles, Sequim, and Forks will reopen at 10am on Tuesday, October 25.
The Clallam Bay Branch Library will reopen at 11am on Tuesday, October 25.
---
Clallam County Reads: One county. One great read.
This October NOLS is excited to introduce Clallam County Reads, a book club for the entire county. This series of free, educational, and community-building events and programs will center around the themes explored in the club's official selection, The Boys in the Boat by Daniel James Brown. This inspirational true story celebrates the 1936 U.S. Olympic rowing team, when nine working-class young men took the sport—and world—by storm. Clallam County Reads will culminate with a visit and presentation by Daniel James Brown on Saturday, October 29. See below for more details about all the upcoming programs and events!
How to participate
Participating is easy: Simply stop by any NOLS branch location and,
beginning September 23, pick up your free copy of The Boys in the Boat and its accompanying reader's guide. Copies of the original edition—as well as an adaptation for younger readers—are available on a first-come, first-served basis and are yours to keep. The book is also available in alternative formats such as large-print and e-audio.
SCHEDULE OF EVENTS
TEEN SCAVENGER HUNT
October 1—October 29, all branches
For teens ages 12-18
Put your research skills to the test while hunting for information related to The Boys in the Boat. Completed scavenger game sheets will be entered in a drawing for $50 in gift card prizes to local businesses. To get started, pick up a game sheet at your library, or download one here.
Entries are due at your branch no later than 5pm on October 29.
TRAVELS BY PADDLE
October 21, 6:30pm, Sequim Branch Library
October 22, 5:30pm, Port Angeles Main Library
Local sea kayaker, author, and adventurer Chris Duff will share exciting stories from a lifetime of traveling the world's oceans in small boats and turning his dreams into reality.
THE GIRLS IN THE BOAT
October 22, 3:30pm, Sequim Branch Library
Competitive rowers will join Elise Beuke of the University of Washington women's rowing team and Coach Debby Swinford of the Olympic Peninsula Rowing Association to discuss their sport and how to get involved. Learn about local rowing opportunities, examine an actual racing shell, and be inspired!
O.P.R.A. PRESENTS: THE KIDS IN THE BOAT
October 29, 11am-3pm, Vern Burton Community Center, 308 East Fourth Street, Port Angeles
This Olympic Peninsula Rowing Association-hosted fundraiser will feature rowing-themed games, fun interactive stations, face-painting, tasty treats, local art, and a raffle for a grand prize get-away to a beachfront condo on the island of Kauai! Free admission.
AN EVENING WITH AUTHOR DANIEL JAMES BROWN
October 29, 7pm, Port Angeles H.S. Auditorium, 304 East Park Avenue, Port Angeles
Join author Daniel James Brown for this free, wide-ranging discussion about his experiences researching and writing The Boys in the Boat. Featuring an author Q&A and book signing. Doors open at 6:30pm.
More information
Additional community organizations involved in the planning and support of Clallam County Reads include: the Olympic Peninsula Rowing Association; the Port Angeles and Sequim education foundations; the Port Angeles and Sequim school districts; the Quileute Nation; Trinity United Methodist Church; the Sequim Museum & Arts Center; and the University of Washington Women's Rowing Team. Clallam County Reads has been generously supported by Friends of the Library groups in Port Angeles, Sequim, Forks, and Clallam Bay.

For more information about the Clallam County Reads program series and book club, send an email to .org or call the Port Angeles Main Library at 360.417.8500.
---
Understanding the Electoral College
Tuesday, November 1, 6pm
Sequim Branch Library
Join Vern Frykholm, portraying President George Washington, for an engaging presentation about the history of the Electoral College, why it matters and how it works.
About the Speaker
Vern Frykholm began portraying George Washington in 2012 and has since offered more than 180 portrayals of the iconic leader to more than 14,000 people. He frequently appears at public and private schools, service clubs, conferences, and libraries, and has performed at Sequim's George Washington Inn for the past four years.
This program is supported by the Friends of Sequim Library. For more information, call 360.683.1161 or send an email to .
---
Theodore Roosevelt: Wilderness Warrior in Washington State
Thursday, November 3, 6:30pm
Port Angeles Main Library

Friday, November 4, 6:30pm
Sequim Branch Library

Saturday, November 5, 1pm
Forks Branch Library
Educator and conservationist Scott Woodward—a lecturer with the Humanities Washington Speakers Bureau—will lead these free, engaging discussions that explore the lasting wilderness legacy of Theodore Roosevelt.
How did Roosevelt achieve so much? In 1903, the President made a 17-city whistle stop tour of Washington State, inspiring thousands of residents on both sides of the Cascades. The wilderness legacy that ensued from this visit locates our sense of place in Washington State today with the formation of national wildlife refuges, national forests and parks, and national monuments. Woodward's presentations—combining music, anthropology, and history—will examine Roosevelt's signature approach to getting things done: combining politics with citizenship that crossed all political lines and built legacies for future generations, as well as establishing the sense of place we have today.
About Scott Woodward

For 30 years Scott Woodward taught and coached in the Richland School District and at Columbia Basin College, before retiring in 2002. He is currently a full-time volunteer and President of the Ridges to Rivers Open Space Network, which promotes education, recreation and conservation in the Mid-Columbia region of Washington State.
These events are offered free to the public through the generous support of the Port Angeles Friends of the Library, Friends of Sequim Library, Friends of the Forks Library and Humanities Washington.
---
Art in the Library at the Sequim Branch Library
The current Art in the Library exhibit features the photography of Ken Dvorak, and will be on display from October 7, 2016 through February 1, 2017 at the Sequim Branch Library.
This program has been made possible by generous contributions from the Friends of Sequim Library. More information about Art in the Library can be found here.
---
Listen Up! Stories from the Northwest Corner
To kick-off the Listen Up program, sixteen interviews were collected in spring of 2016 about personal experiences in national parks. The complete recordings can be found at the Washington Rural Heritage website. We also compiled some of our favorite stories from the recordings into a video – click here to watch!
We recently collected interviews from local area veterans; stay tuned for the published recordings.
About Listen Up!
Listen Up! Stories from the Northwest Corner will present local residents with ongoing opportunities to help tell and preserve the story of Clallam County for generations to come. The program is inspired by StoryCorps, an organization focused on the collecting, sharing, and preserving of oral histories.
---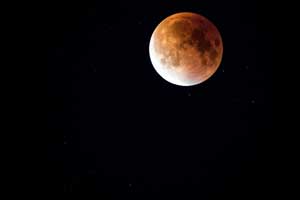 Telescopes available!
Thanks to a generous donation from Forks Elks Lodge 2524, telescopes are available for checkout at all NOLS branches. Each scope is equipped with accessories to help Library patrons view the night sky, including a pocket constellation guide, beginner's instruction manual, and a headlamp to aid in nighttime viewing. Library telescopes may be borrowed for up to one week. To place a hold request, visit the Library catalog and search for "telescopes." Hold requests can also be made by calling the library or visiting any of the four NOLS branches in Clallam County.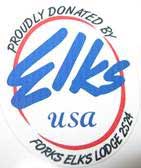 ---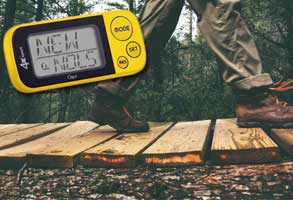 New! Pedometers now available at your Library
Stride toward healthy living with NOLS pedometers, now available for checkout at all Library locations! Whether you're exploring new wilderness trails or strolling through your daily activities, now you can keep track of how many steps you take and calories you burn.
What's inside?
Each pedometer may be borrowed for up to one week, and comes equipped with easy quick-start instructions. To place a hold, call or visit any NOLS branch library, or visit the online catalog.
For additional information about NOLS pedometers and other nontraditional items available for checkout, contact Erin Shield 360.417.8500 ext. 7724, or send an email to .
---
Uncover new resources: iPads now available @ NOLS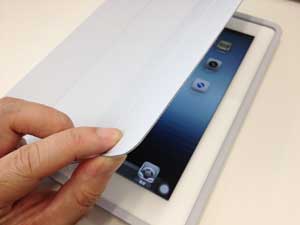 Borrow an iPad tablet to use during your next visit to NOLS!
Library card holders in good-standing may borrow an iPad on a first-come, first-served basis for up to two hours at a time.

The new devices, to be used inside the library, are ideal for research, personal browsing, or to experience the Library's many downloadable resources—including streaming movies, TV shows, and audiobooks.

Questions? Ask NOLS staff for assistance!
---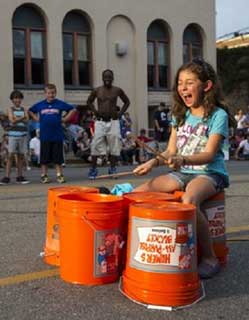 Rhythm Buckets at your Library
Get ready to make some music! Rhythm Buckets for drummers of all ages are now available for checkout at all NOLS library locations. Big Rhythm Buckets for adults and Lil' Rhythm Buckets for younger drummers offer library card holders a fun, free, and easy way to learn while playing the buckets themselves and the assortment of noisemakers inside.
What's inside
Each bucket comes with all the discovery tools you'll need for successful rhythm-making: drum sticks, various hand percussion instruments like shaker eggs, kalimbas, and guiros, as well as music instruction books for both adults and kids. Patrons may borrow each bucket for up to three weeks. To place a hold, call or search the online catalog for "Rhythm Buckets."
For additional information about NOLS Rhythm Buckets and other nontraditional items available for checkout, contact Erin Shield 360.417.8500 ext. 7724, or send an email to .
---
Put your communication in motion!
Two-way radios now available for checkout at your library.
Let the exploring begin! Walkie-talkie two-way radios are now available for checkout at all NOLS library locations. The radios, which patrons may borrow for three weeks, are perfect for camping, hiking, hunting, and other fun adventures.
Each walkie-talkie will operate for up to 10 hours, and comes with rechargeable batteries and a charging station. With a range of up to 35 miles, NOLS two-way radios allow you to roam widely without losing touch. Additional safety features include a built-in flashlight, weatherproof design to prevent dust and moisture from interfering with functionality, and National Oceanic and Atmospheric Administration (NOAA) channels to help keep you alerted to extreme weather conditions like flash floods or blizzards. The radios also come equipped with an optional silent vibrating ringer.
To checkout a set of walkie-talkies, stop by your nearest NOLS library or place a hold by visiting the
library catalog.
More information
For additional information about NOLS walkie-talkies and other nontraditional items available for checkout, contact Erin Shield at 360.417.8500 ext. 7724, or send an email to .
---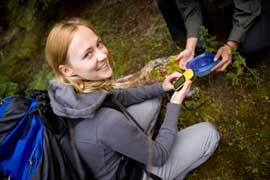 Geocaching Kits at Your Library
Hunt for treasure with a little help from modern technology! NOLS is introducing three geocaching kits that are now available for checkout. Using the global positioning system (GPS) and your wits, geocaching brings together a love of the outdoors and modern tools of navigation. Geocaches may be found anywhere, and the basics of the game are simple: Participants select a cache from a website; after a cache is selected, the coordinates to the location are entered or downloaded onto a GPS device. It is then up to the players to use their navigational and detective skills to seek out the hidden container. Caches may contain simply a logbook for those who've found it, or perhaps a small treasure to share. Participants traditionally leave an item in exchange for any they might take.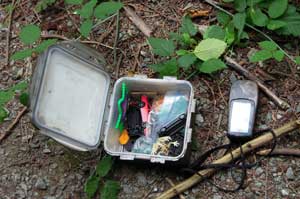 What's inside
Each kit, housed in a backpack donated by Swain's General Store, comes with all the tools you'll need for successful geocaching: a Garmin eTrex10 GPS device, The Complete Idiot's Guide to Geocaching, and a quick start guide. Patrons may borrow each kit for up to three weeks. To reserve a kit, call or visit any NOLS library, or visit the online catalog at www.nols.org.
---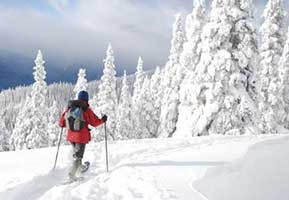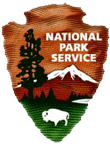 Get Out and Explore Olympic!
Winter is a great time for a new adventure. Olympic National Park and the
North Olympic Library System have teamed up to help local families explore the spectacular national park in our own backyard. Explore Olympic! daypacks are available for check out at any NOLS branch. Daypacks are filled with discovery tools for exploring the park, including trail and field guides, binoculars and reading materials for kids. Families who check out a pack will receive a seven-day entrance to Olympic National Park thanks to a generous donation from Washington's National Park Fund.