A Taste of Southeast Alaska
Wednesday, October 7 @ 6pm
Bear-viewing guide Mozelle Maness, who has guided visitors to observe Southern Alaska's Herring Cove bears for many years, will show two short films about the region—"The Bush Pilots" and "A Fish Story"—and discuss her experiences there. Light, bear-approved snacks will also be served. This program is made free to the public with generous contributions from the Friends of Sequim Library.
---
Writing workshop and author talk with NY Times-bestselling author April Henry
Wednesday, October 14, 6:30pm
Fiction writing workshop @ the Sequim Branch Library
All ages welcome!

Thursday, October 15, 3:30pm
Author talk and book signing @ the Port Angeles Main Library

This October, New York Times-bestselling author April Henry will visit the Sequim and Port Angeles libraries to offer a free writing workshop and discuss her work.
On Wednesday, October 14, Henry will lead a fiction writing workshop at the Sequim Branch Library, and teach participants how to create page-turning plots and develop multilayered characters. All ages are welcome to attend, however space is limited. Click here to register now, or send an email to . Henry's books will also be available for purchase at the event from Hart's Fine Books.
On Thursday, October 15, Henry will visit the Port Angeles Main Library to discuss her writing process and most recent novel, Blood Will Tell. Come learn about Henry's experience writing for young adults, how she became published, and the importance of research in her work. Henry will also sign copies of her books, which will be available for purchase at the event from Odyssey Bookshop.
This program is generously supported by the Port Angeles Friends of the Library and the Friends of Sequim Library.
---
The Great Washington Shake Out!
On Thursday, October 15, NOLS will join Jefferson County Library, Jamestown S'Klallam Tribal Library, Port Townsend Public Library, and more than 10 million people worldwide to participate in Great ShakeOut earthquake drills, which will begin at 10:15am at the site of each cooperating library. This is an opportunity for community members to join their local library staff in practicing and implementing the central tenets of earthquake preparedness: "Drop, Cover, and Hold On."
In Clallam County, library staff at NOLS branch locations in Clallam Bay, Forks, Port Angeles, and Sequim will lead the drills by making an announcement at 10:15am and instructing patrons and staff to drop to the ground, take cover under a desk or sturdy table, and hold on for the remainder of the 90-second drill.
---
Art in the Library at the Sequim Branch Library
The Fall Art in the Library exhibit will be on display at the Sequim Branch Library between September 3 and December 1, 2015, and features the illustrations of colored pencil artist Vana Arnold.
This program has been made possible by generous contributions from the Friends of Sequim Library. More information about Art in the Library can be found here.
---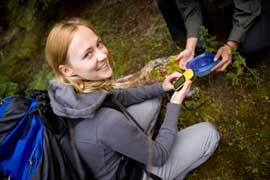 Geocaching Kits at Your Library
Hunt for treasure with a little help from modern technology! NOLS is introducing three geocaching kits that are now available for checkout. Using the global positioning system (GPS) and your wits, geocaching brings together a love of the outdoors and modern tools of navigation. Geocaches may be found anywhere, and the basics of the game are simple: Participants select a cache from a website; after a cache is selected, the coordinates to the location are entered or downloaded onto a GPS device. It is then up to the players to use their navigational and detective skills to seek out the hidden container. Caches may contain simply a logbook for those who've found it, or perhaps a small treasure to share. Participants traditionally leave an item in exchange for any they might take.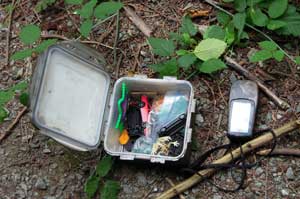 What's inside
Each kit, housed in a backpack donated by Swain's General Store, comes with all the tools you'll need for successful geocaching: a Garmin eTrex10 GPS device, The Complete Idiot's Guide to Geocaching, and a quick start guide. Patrons may borrow each kit for up to three weeks. To reserve a kit, call or visit any NOLS library, or visit the online catalog at www.nols.org.
---
Get Out and Explore Olympic!
Winter is a great time for a new adventure. Olympic National Park and the
North Olympic Library System have teamed up to help local families explore the spectacular national park in our own backyard. Explore Olympic! daypacks are available for check out at any NOLS branch. Daypacks are filled with discovery tools for exploring the park, including trail and field guides, binoculars and reading materials for kids. Families who check out a pack will receive a seven-day entrance to Olympic National Park thanks to a generous donation from Washington's National Park Fund.
---
Free Pool Passes available now
Lift some weights, go for a swim, take an exercise class, or just splash around! The North Olympic Library System (NOLS) has partnered with the Sequim Aquatic Recreation Center (SARC) in Sequim to make two free passes available for checkout beginning November 3. Whether alone or with the entire family, SARC passes give library card holders a free, fun and easy way to test the waters and stay active.
How to use your pool pass
One pass is for individuals who'd like to try one of the many classes offered at SARC – everything from Tai Chi to water aerobics. The second pass grants up to six household members access to workout, cardio, and weight rooms, in addition to open swim and family fun night. Patrons may borrow each pass for up to one week.
Reserving your pass & Additional information
Patrons may borrow each pass for up to one week. Pool passes have been generously donated by the Sequim Aquatic Recreation Center. To place a hold request search for "SARC pool pass." Hold requests can also be made by calling the library or visiting any of the four NOLS libraries in Clallam County.