Gadget Lab: One-on-One Appointments
Could you use a hand with that shiny new gadget in your life? NOLS can help! The Sequim Branch Library is now offering 20-minute appointments with expert library staff for hands-on, one-on-one technology help.
This spring's Gadget Lab sessions will take place by appointment only on the following dates:
Monday, March 9: 5:30-7:30pm
Tuesday, March 24: 2-4pm
Thursday, April 9: 2-4pm
Tuesday, April 28: 5:30-7:30pm
"I have a new e-reader, but getting books on it from the library had me stumped," one satisfied Gadget Lab participant said. "Getting personal help was perfect—I've been downloading books left and right, and doing it myself!" Bring your device and you will be personally guided through the process of downloading e-books or e-audiobooks from subscription download services such as Washington Anytime Library, 3-M, and Oneclick Digital. Library staff can help you with your Kindle, Nook, Sony Reader, Android tablet, smartphone, Apple devices, and mp3 players.
For more information or to book your appointment, contact Ambur Taft at , or call 360.683.1161.
---
Taking Care of You: Diabetes Prevention – Proven, Powerful, Possible
On Tuesday, April 14 at 3pm, the Sequim Branch Library will continue its Taking Care of You health and wellness series with a free presentation about diabetes prevention.
About 1.8 million adults in Washington are at significant risk for developing Type 2 diabetes, and most don't know it. Shirley Calodich of WSU Extension of Clallam County will share information about diabetes and pre-diabetes, ways to prevent or delay its onset, and lifestyle choices you can make to support your health.
---
Celebrate El Día de los Niños y los Libros
Thursday April 30

3:30pm Forks Branch Library
6:30pm Port Angeles Main Library
6:30pm Sequim Branch Library
The festivities will feature a bilingual storytime followed by music, food, games and crafts. Children who attend will receive a free book!
These programs are generously supported by Friends of the Library groups in
Forks, Port Angeles and Sequim.
---
Celebrate Wilderness! at the Sequim Branch Library
In an ongoing celebration of the Wilderness Act's 50th anniversary, the Sequim Branch Library will be displaying a portion of the Wilderness art show that was recently on exhibit at the Port Angeles Main Library.
The Spring Art in the Library exhibit will be on display at the Sequim Branch Library from March 6 until June 1, and feature vivid photography by local artists James Jackson and Dave Shreffler.
The program has been made possible by generous contributions from the Friends of Sequim Library.
More information about Art in the Library can be found here.
---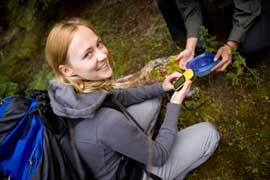 Geocaching Kits at Your Library
Hunt for treasure with a little help from modern technology! NOLS is introducing three geocaching kits that are now available for checkout. Using the global positioning system (GPS) and your wits, geocaching brings together a love of the outdoors and modern tools of navigation. Geocaches may be found anywhere, and the basics of the game are simple: Participants select a cache from a website; after a cache is selected, the coordinates to the location are entered or downloaded onto a GPS device. It is then up to the players to use their navigational and detective skills to seek out the hidden container. Caches may contain simply a logbook for those who've found it, or perhaps a small treasure to share. Participants traditionally leave an item in exchange for any they might take.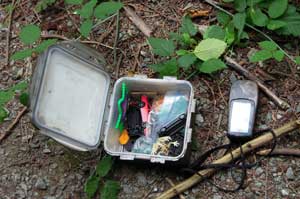 What's inside
Each kit, housed in a backpack donated by Swain's General Store, comes with all the tools you'll need for successful geocaching: a Garmin eTrex10 GPS device, The Complete Idiot's Guide to Geocaching, and a quick start guide. Patrons may borrow each kit for up to three weeks. To reserve a kit, call or visit any NOLS library, or visit the online catalog at www.nols.org.
---
Get Out and Explore Olympic!
Winter is a great time for a new adventure. Olympic National Park and the
North Olympic Library System have teamed up to help local families explore the spectacular national park in our own backyard. Explore Olympic! daypacks are available for check out at any NOLS branch. Daypacks are filled with discovery tools for exploring the park, including trail and field guides, binoculars and reading materials for kids. Families who check out a pack will receive a seven-day entrance to Olympic National Park thanks to a generous donation from Washington's National Park Fund.
---
Free Pool Passes available now
Lift some weights, go for a swim, take an exercise class, or just splash around! The North Olympic Library System (NOLS) has partnered with the Sequim Aquatic Recreation Center (SARC) in Sequim to make two free passes available for checkout beginning November 3. Whether alone or with the entire family, SARC passes give library card holders a free, fun and easy way to test the waters and stay active.
How to use your pool pass
One pass is for individuals who'd like to try one of the many classes offered at SARC – everything from Tai Chi to water aerobics. The second pass grants up to six household members access to workout, cardio, and weight rooms, in addition to open swim and family fun night. Patrons may borrow each pass for up to one week.
Reserving your pass & Additional information
Patrons may borrow each pass for up to one week. Pool passes have been generously donated by the Sequim Aquatic Recreation Center. To place a hold request search for "SARC pool pass." Hold requests can also be made by calling the library or visiting any of the four NOLS libraries in Clallam County.