Children's Area Closed for Renovation August 3 -29
The Port Angeles Main Library's children's area will be closed Monday, August 3, through Saturday, August 29, while a major renovation of the space is completed. During the closure of the children's area, a small collection of children's items for browsing and checkout will be available elsewhere in the library. Patrons may also continue to place holds on and check out children's material from other branches. The rest of the Port Angeles Main Library will remain open and operate as normal during the renovation project.
After 18 years of heavy use, the children's area has begun to show its age. The closure will allow the children's area to be completely emptied so that aging carpet can be replaced, the walls painted and new electrical work completed. Layout of collection and furnishings will be reconfigured to better meet modern services and customer needs, and furnishings and technology will be updated. One of the more exciting new elements of the remodel will be an interactive learning space specifically designed to teach the Every Child Ready to Read program's Pre-literacy Skills and Practices and STEM goals through interactive play.
The renovation project, estimated to cost $40,000, is being funded by the North Olympic Library System, as a planned project of NOLS 2015 Capital Improvement budget. The custom interactive furnishings have been made possible by a very generous $20,000 donation from the Port Angeles Friends of the Library.
For additional information, contact Noah Glaude, Main Library Manager, at or 360.417.8500 x7717.
---
Books & Libations
Enjoy a perfect pairing at this 21+ event, co-hosted by NOLS and Camaraderie Cellars!
Wednesday, August 5, 6pm
At each table, participants will sample one great book and one of Camaraderie Cellar's artisanal Northwest wines. Each book has been perfectly paired with each of the wines, with titles ranging from classics to sci-fi to literary fiction, matched in tone and intensity to red, white, and rose wines. After your first taste, move on to the next table for another delicious pairing! Altogether, participants will learn about six spectacular books and sample six amazing wines throughout the evening.
Space is limited! Registration is required for this event. Valid photo ID must be presented upon entry. The Camaraderie Cellars Winery and Tasting Room is located at 334 Benson Road in Port Angeles. Parking is limited; ride-sharing is encouraged.
For additional information about this event, contact Sarah Morrison at or at 360.417.8500.
---
Summertime Music! Outdoor Concert Series
Grab your lawn chair, a blanket, some good eats, and enjoy live tunes at the Port Angeles Main Library's annual Summertime Music! Outdoor Concert Series. Bring your family, bring your friends, and have fun!
All concerts begin at 6pm.
July 30: Cort Armstrong & Blue Rooster
Cort Armstrong and Blue Rooster perform a signature blend of country, bluegrass, blues, and other music rooted in the Appalachian Mountain sound. Though busy playing in other bands all over the Olympic Peninsula, Puget Sound, and beyond, when Blue Rooster gets together their singular sound comes through like gangbusters.
August 13: Ranger & the Re-Arrangers
Ranger and his father Michael formed Ranger and the "Re-Arrangers" in 2006. In the years since, the band has released three CDs and played over 600 shows. Ranger and the "Re-Arrangers"evoke the spirit of a Paris café and the raucous energy of a Gypsy campsite with their unique twist on Gypsy Jazz. The band's repertoire includes swing standards, traditional Gypsy melodies, the music of Django Reinhardt, and Ranger's unique originals.
August 27: Whozyamama
Whozyamama evokes the traditional Cajun music of southern Louisiana with fiddle, accordion, guitar, bass and Cajun French vocals. A short dance lesson on the Cajun two step and waltz will be led by Claudette Boudreaux of Dulac, Louisiana. The band's name is also a game folks play down there when they meet. Come play "who's ya mama?" with the band!
---
One-on-One Tech-Know-Logy Appointments
How would you like to keep your e-reader, smart phone, or tablet full of free library books that you can download right from home? What about being able to download new content in the airport, a hotel, rest stop, and even your vacation destination? NOLS can show you how!
Schedule a 30-minute appointment with expert library staff for hands-on, one-on-one tutoring at the Port Angeles Main Library. Tech-Know-logy sessions will take place by appointment only between 4pm and 7pm on May 20, June 10, July 1 and 22, and August 12 at the Port Angeles Main Library.
Bring your device and be personally guided through the process of downloading eBooks and eAudiobooks from services such as Washington Anytime Library, 3M Cloud Library, and OneClickDigital, as well as the library's new instant streaming service, hoopla! Staff experts can help you with your Kindle, Nook, Sony Reader, Android tablet or smartphone, Apple device, laptop, or mp3 player. Or, if you're still considering whether to purchase an e-reader or similar device, the experts can help you find information about which device might best fit your needs.
For more information or to book your appointment, email call 360.417.8500, or visit www.nols.org.
---
Art in the Library at the Port Angeles Main Library
The summer Art in the Library show features bold, mixed media pieces from Clayton Murdach; traditional Lower Elwha carvings by Floyd Cooke, Richard Mike, and Sam Cooke; basketry from Jamie Valadez; and intricate book arts from Jan Dove. The exhibit will be on display at the Library from July 10 to October 7.
The program has been made possible by generous contributions from the Port Angeles Friends of the Library, and also by the efforts of volunteer art coordinator Diane Williams, who schedules the artists and designs the displays. More information about Art in the Library can be found here.
---
Elwha: A River Reborn Traveling Exhibit
The Port Angeles Main Library is proud to present Elwha: A River Reborn, a new traveling exhibit from the Burke Museum, on view from June 1 to August 29.
Based on a book of the same name by Seattle Times reporter Lynda Mapes and photographer Steve Ringman, Elwha explores the people, places, and history behind a remarkable story–and the largest dam removal project ever undertaken. Through first–person accounts, stunning photographs, and informative text printed on free–standing banners, visitors can follow the Elwha's journey from abundant wilderness to economic engine.
Elwha: A River Reborn was developed by the Burke Museum of Natural History and Culture in collaboration with The Seattle Times, Mountaineers Books, and the Lower Elwha Klallam Tribe. The Port Angeles Main Library's presentation of the exhibit is made possible by the generous support of the Port Angeles Friends of the Library.
For information about Elwha: A River Reborn and related programs, contact the Library at 360.417.8500 or send
an email to . The Port Angeles Main Library is located at 2210 South Peabody Street.
---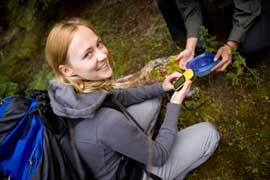 Geocaching Kits at Your Library
Hunt for treasure with a little help from modern technology! NOLS is introducing three geocaching kits that are now available for checkout. Using the global positioning system (GPS) and your wits, geocaching brings together a love of the outdoors and modern tools of navigation. Geocaches may be found anywhere, and the basics of the game are simple: Participants select a cache from a website; after a cache is selected, the coordinates to the location are entered or downloaded onto a GPS device. It is then up to the players to use their navigational and detective skills to seek out the hidden container. Caches may contain simply a logbook for those who've found it, or perhaps a small treasure to share. Participants traditionally leave an item in exchange for any they might take.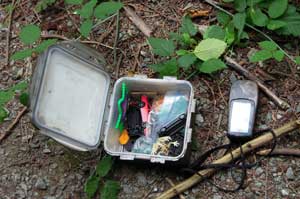 What's inside
Each kit, housed in a backpack donated by Swain's General Store, comes with all the tools you'll need for successful geocaching: a Garmin eTrex10 GPS device, The Complete Idiot's Guide to Geocaching, and a quick start guide. Patrons may borrow each kit for up to three weeks. To reserve a kit, call or visit any NOLS library, or visit the online catalog at www.nols.org.
---
Get Out and Explore Olympic!
Winter is a great time for a new adventure. Olympic National Park and the
North Olympic Library System have teamed up to help local families explore the spectacular national park in our own backyard. Explore Olympic! daypacks are available for check out at any NOLS branch. Daypacks are filled with discovery tools for exploring the park, including trail and field guides, binoculars and reading materials for kids. Families who check out a pack will receive a seven-day entrance to Olympic National Park thanks to a generous donation from Washington's National Park Fund.