Homestead Home-Ec: Hands-on antique skills series
What was life like for the handful of individuals who first settled in Clallam County? What traditional skills were learned from nearby native tribes? Discover the answers to these questions and more at Homestead Home-Ec, a series of hands-on programs at the Port Angeles Main Library that explores the handicrafts and skills of early Olympic Peninsula residents. Come learn a new-old skill, and pick up a little history about the area.
All Homestead Home-Ec programs will begin at 6:30pm in the Raymond Carver Room of the Port Angeles Main Library, and take place on a bi-weekly schedule throughout April and May. Attend as often as you wish! Dates for Homestead Home-Ec programs are as follows:
Thursday, April 16: Hand spinning and natural dyes
Thursday, April 30: Beekeeping
Thursday, May 14: Foraging and plant identification
Thursday, May 28: Hand quilting
Registration is required to attend, and space is limited; to reserve your place, call 360.417.8500, send an email to . or register online.
For more information, contact Librarian Sarah Morrison at 360.417.8500, ext. 7750.
NOLS thanks Port Angeles Friends of the Library for supporting these and other educational programs!
---
Poetry Walks
Four self-guided trails connecting poetry and nature.
April 13 - June 14.
More information here.
---
Geocaching 101 with Caroline Stuckey
Saturday, April 25, 10am-3pm
Hunt for treasure with a little help from modern technology! Join expert Caroline Stuckey for a hands-on introduction to the adventures of geocaching. This beginner's workshop will include an overview of geocaching, guidance using a hand-held global positioning system (GPS) device, and an outdoor field trip to practice searching for caches. Adult and teen participants are encouraged to bring their own GPS device and a brown bag lunch. Space in the workshop is limited, and registration is required. Click here to register, or call the library at 360.417.8500.
The workshop schedule is as follows:
Overview and Demonstration from 10am-12pm
Brown Bag Lunch 12pm-12:30pm
Practice and Field Trip 12:30pm-3pm
To reserve a geocaching kit or resource guide from the library, click here!
This program is generously supported by the Port Angeles Friends of the Library.
---
Celebrate El Día de los Niños y los Libros
Thursday April 30

3:30pm Forks Branch Library
6:30pm Port Angeles Main Library
6:30pm Sequim Branch Library
The festivities will feature a bilingual storytime followed by music, food, games and crafts. Children who attend will receive a free book!
These programs are generously supported by Friends of the Library groups in
Forks, Port Angeles and Sequim.
---
Special Earthquake and Tsunami Education Event
Friday, May 8, at 7pm
Listen to presentations, stories and songs about earthquakes and tsunamis at the Port Angeles Main Library. This special event will be held in the Library "living room" and begin with a performance by Port Angeles High School choir group Bella Voce, followed by a local Native American flood legend told by Lower Elwha Klallam tribe member Jaime Valadez.
Dr. Brian Atwater, a geologist with the University of Washington and U.S. Geological Survey, will then discuss the detective work behind current tectonic connections as well as his book, The Orphan Tsunami of 1700.
Afterwards, Brynne Walker, Tsunami Program Coordinator for Washington State Emergency Management, will speak about preparing ourselves and our community for the next great quake. Also on-hand throughout the event will be emergency preparedness information provided by the Clallam County Sherriff Office, and hands-on earthquake activities prepared by local students.
This free event was organized and sponsored by NOAA's Olympic Coast National Marine Sanctuary and EarthScope.
---
Art in the Library at the Port Angeles Main Library
The spring Art in the Library show features repurposed marine debris by local artists and students, an eclectic mix of photographs from Judy Larimore, elegant woodwork by Bill Wood, whimsical collages by Melanie Salazar, and new paintings from North Olympic Peninsula Skills Center students. The exhibit will be on display at the Library from April 9 until July 7.
The program has been made possible by generous contributions from the Port Angeles Friends of the Library, and also by the efforts of volunteer art coordinator Diane Williams, who schedules the artists and designs the displays. More information about Art in the Library can be found here.
---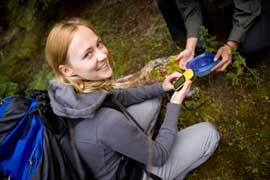 Geocaching Kits at Your Library
Hunt for treasure with a little help from modern technology! NOLS is introducing three geocaching kits that are now available for checkout. Using the global positioning system (GPS) and your wits, geocaching brings together a love of the outdoors and modern tools of navigation. Geocaches may be found anywhere, and the basics of the game are simple: Participants select a cache from a website; after a cache is selected, the coordinates to the location are entered or downloaded onto a GPS device. It is then up to the players to use their navigational and detective skills to seek out the hidden container. Caches may contain simply a logbook for those who've found it, or perhaps a small treasure to share. Participants traditionally leave an item in exchange for any they might take.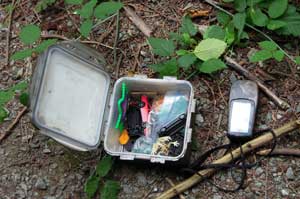 What's inside
Each kit, housed in a backpack donated by Swain's General Store, comes with all the tools you'll need for successful geocaching: a Garmin eTrex10 GPS device, The Complete Idiot's Guide to Geocaching, and a quick start guide. Patrons may borrow each kit for up to three weeks. To reserve a kit, call or visit any NOLS library, or visit the online catalog at www.nols.org.
---
Get Out and Explore Olympic!
Winter is a great time for a new adventure. Olympic National Park and the
North Olympic Library System have teamed up to help local families explore the spectacular national park in our own backyard. Explore Olympic! daypacks are available for check out at any NOLS branch. Daypacks are filled with discovery tools for exploring the park, including trail and field guides, binoculars and reading materials for kids. Families who check out a pack will receive a seven-day entrance to Olympic National Park thanks to a generous donation from Washington's National Park Fund.