Poetry Walks
Four self-guided trails connecting poetry and nature.
April 1 - May 31.
More information here.
---
Gravitational Waves: A New View of the Universe
Monday, May 22, 6:30pm
Gravitational waves arriving at Earth from the far reaches of our universe tell the story of a cataclysmic event. Learn more about this fascinating discovery, and how it was detected by the twin Laser Interferometer Gravitational-wave Observatory (LIGO), from LIGO's own Amber Henry at 6:30pm on Monday, May 22, at the Port Angeles Main Library.
Amber Henry serves as the education and outreach coordinator for the LIGO Hanford Observatory near the Tri-Cities, Washington. She works with LIGO colleagues in the U.S. and around the globe to connect students and the public to the newly-born field of gravitational wave astronomy. At LIGO Hanford, Henry enjoys sharing the fascinating physics necessary to detect gravitational waves with the public. Before joining the LIGO team, she received a Bachelor of Science degree in Physics from Fort Hays State University, a Masters in Education from Arizona State University, and taught high school physics for seven years.
During her visit to the Olympic Peninsula, Henry will also offer students at Port Angeles High School a chance to explore LIGO science before the evening presentation at the North Olympic Library System.
This event generously supported by the Port Angeles Friends of the Library. For more information, email .
---
Seed Saving Basics
Monday, June 5, 6:30pm
The NOLS Grows Seed Library will host Washington State University's Master Gardeners of Clallam County for a discussion about saving seeds on Monday, June 5, at 6:30pm at the Port Angeles Main Library of the North Olympic Library System (NOLS). Discover a cure for "plant-catalog-itis", a common ailment affecting thousands in early spring. The primary symptom is usually spending over budget ordering seeds from catalogs. Find your seed cure with NOLS this spring!
Drawing on her roots as a biology professor, Muriel Nesbitt will discuss the benefits of saving seeds, and introduce participants to the techniques and timing required for proper seed saving. The seed saving process begins at pollination, and includes the harvest, drying, and cleaning of seeds. Nesbitt will help demystify how the pollination process unfolds for different types of plants, and how gardeners can be pollinators in their own garden. This talk will also discuss the history of seed saving, which dates back at least 12,000 years. What exactly is an heirloom plant? What is a hybrid? Find answers to these questions and many more while learning how to save seeds from plants in your own backyard this spring.
About Muriel Nesbitt
Muriel Nesbitt has a PhD in the field of genetics, and has taught biology at the University of California. She is a Master Gardener of Clallam County, and is a community educator who is passionate about engaging the residents of Clallam County in a variety of horticultural topics.
Additional information about seed saving can be found here.
To learn more about this event and other events, email .
This program is generously supported by the Port Angeles Friends of the Library.
---
Hiking Tour of the Olympic Peninsula and Surrounding Areas
Join award winning guidebook author Craig Romano for a virtual tour of the Olympic Peninsula's outstanding hiking opportunities on Friday, June 9, at 6:30pm and Saturday, June 10, at 10:30am at the Port Angeles Main. Pack the most adventure into your summer season by drafting your summer hiking dream list with NOLS.
Romano has logged more than 2000 miles on foot researching his recently released guidebook, Day Hiking the Olympic Peninsula, which includes many hikes found in no other guidebook. Drawing from his long-awaited for and newly released second edition of this guidebook, Romano will introduce you to a diverse array of trails on the Olympic Peninsula and neighboring peninsulas and coastal beaches. From alpine meadows to backcountry lakes; wilderness beaches to groves of towering old-growth forests; there are countless hiking options to choose from on the Olympic and Kitsap Peninsulas. Copies of Day Hiking the Olympic Peninsula will be available for purchase at a discount.

Hiking the Olympic Peninsula and Washington Coast: Friday June 9, 6:30pm
Take a slideshow hiking tour around the Olympic Peninsula, Grays Harbor and Long Beach Peninsula with guidebook author Craig Romano. From easy nature trails to wilderness romps, your hiking wish list is sure to grow following this talk bursting with insider tips.
Olympic and Kitsap Peninsula Family-Friendly Hikes: Saturday June 10, 10:30am
Guidebook author and father of a young hiker, Craig Romano will take you on a family-friendly virtual hiking tour around the Olympic and Kitsap Peninsulas. Romano will describe some of the best places on the Olympic Peninsula, Kitsap Peninsula, Long Beach Peninsula and Bainbridge Island to introduce kids to the wonders of nature.
About Craig Romano
Craig Romano grew up in rural New Hampshire where he fell in love with the natural world. He moved to Washington in 1989 and has since hiked more than 19,000 miles in the Evergreen state. An award-winning author and co-author of 18 books; Romano's Exploring Washington's Last Frontier was recognized in 2010 as a Washington Reads book for its contribution to Washington's cultural heritage. Romano also writes for numerous publications, tourism websites, and Hikeoftheweek.com. Visit him at www.CraigRomano.com, and on Facebook at "Craig Romano Guidebook Author".
This program is generously supported by the Port Angeles Friends of the Library.
---
Sync Summer Audiobook Program
The North Olympic Library System is partnering with Sync this summer to provide free audiobook downloads. Sync is a free summer audiobook program for ages 13 and older.
Beginning April 27, Sync will give away two complete audiobook downloads a week – pairs of high interest titles, based on weekly themes. Simply sign up to get notifications of when the free audiobook downloads are available! You can receive alerts by text message, email newsletter, or by visiting www.audiobooksync.com. Titles will update every Thursday at 10am.
Sync seeks to develop the audience of audiobook listeners by providing free audiobook downloads during the program dates. Sync is sponsored by AudioFile Magazine and titles are delivered through the OverDrive app. Audiobook downloads are in MP3 format, hosted by OverDrive, and are Mac and Windows compatible. Each SYNC audiobook title will be available for download for a period of 7 days only. Once titles are downloaded, they are yours to keep! The Sync Summer Audiobook Program runs from April 27 to August 16, 2017.
Titles:
THE DEAD HOUSE Dawn Kurtagich (Hachette Audio)
THE PICTURE OF DORIAN GRAY Oscar Wilde (Naxos AudioBooks)

FEED M.T. Anderson (Listening Library)
THE HITCHHIKER'S GUIDE TO THE GALAXY (Douglas Adams (Random House Audio)

BRONX MASQUERADE Nikki Grimes (Recorded Books)
TEENAGE DIARIES: THEN AND NOW Radio Diaries (Highbridge Audio)

THE GATHERING: SHADOW HOUSE, BOOK 1 Dan Poblocki (Scholastic Audiobooks)
IN OUR BACKYARD: HUMAN TRAFFICKING IN AMERICA AND WHAT WE CAN DO TO STOP IT Nita Belles (Oasis Audio)

FREAKLING Lana Krumwiede (Brilliance Audio)
BOY Anna Ziegler (L.A. Theatre Works)

BEAST Donna Jo Napoli (Recorded Books)
OF BEAST AND BEAUTY Stacey Jay (Tantor Media)

PLUS ONE Elizabeth Fama (Elizabeth Fama)
IF I RUN Terri Blackstock (Zondervan)

THE SOULS OF BLACK FOLK W.E.B. Du Bois (Dreamscape Media)
THE RED UMBRELLA Christina Diaz Gonzalez (Ideal Audiobooks)

THE WITCH'S VACUUM CLEANER AND OTHER STORIES Terry Pratchett (HarperAudio)
THE WITCHES: SALEM, 1692 Stacy Schiff (Hachette Audio)

AMERICAN NIGHT: THE BALLAD OF JUAN JOSÉ Richard Montoya (L.A. Theatre Works)
MY NAME IS NOT EASY Debby Dahl Edwardson (Brilliance Audio)

REBUTTAL Jyotsna Hariharan (HarperAudio)
REMEMBER TO FORGET Ashley Royer (Blink)

THE DORITO EFFECT: THE SURPRISING NEW TRUTH ABOUT FOOD AND FLAVOR Mark Schatzker (Dreamscape Media)
SUGAR Deirdre Riordan Hall (Brilliance Audio)

GONE: GONE SERIES, BOOK 1 Michael Grant (Tantor Media)
THE ONE SAFE PLACE Tania Unsworth (Highbridge Audio)

AIRBORN Kenneth Oppel (Full Cast Audio)
SHADOWS ON THE MOON Zoe Marriott (Brilliance Audio)

IN MY HANDS: MEMORIES OF A HOLOCAUST RESCUER Irene Gut Opdyke with Jennifer Armstrong (Listening Library)
BETWEEN SHADES OF GRAY Ruta Sepetys (Listening Library)

METAMORPHOSIS Franz Kafka (Naxos AudioBooks)
SHADOWSHAPER Daniel José Older (Scholastic Audiobooks)
For more information, email .
---
Art in the Library at the Port Angeles Main Library
The spring Art in the Library show features a dynamic collection of works inspired by the written word. Works created by twelve individual artists and two community groups contribute to this once in a lifetime collaborative exhibit. Discover poetry and prose in a variety of textures, styles, and mediums. Experience your own journey by following the visual poetic feast laid before you at the spring Art in the Library show.
The exhibit will be on display from April 21 until July 18.
This program has been made possible through the generous support of the Port Angeles Friends of the Library, and by the efforts of volunteer art coordinator Diane Williams, who schedules the artists and curates each show. For more information about Art in the Library, including how to participate, click here.
---
NOLS Grows Seed Library is a seed exchange kiosk stocked with small, pre-packaged quantities of free vegetable seeds and other educational materials related to gardening, growing, and seed-saving.

To learn more, click here.
---
TechKnowLogy: One-on-one appointments with a library expert
The Port Angeles Main Library is offering free, 30-minute appointments with expert library staff for hands-on, one-on-one technology tutoring. These sessions will take place at the Port Angeles Main Library by appointment only. To schedule your TechKnowLogy appointment, send an email to . Please be sure to include what day and time you'd like to reserve, as well as what kind of device you're using.
On the day of your appointment, simply bring your device and questions to the Port Angeles Main Library, and you will be personally guided by a NOLS expert. Learn how to download eBooks and eAudiobooks, or stream your favorite television shows, music, and movies with services such as Washington Anytime Library and Hoopla. NOLS experts will help you navigate your Kindle, Nook, Android tablet or smartphone, Apple device, laptop, or MP3 player. If you're considering whether to purchase an eReader or similar gadget, TechKnowLogy tutors can also help you find information about which one will best suit your needs.
---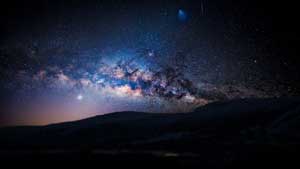 Telescopes available!
Thanks to a generous donation from Forks Elks Lodge 2524, telescopes are available for checkout at all NOLS branches. Each scope is equipped with accessories to help Library patrons view the night sky, including a pocket constellation guide, beginner's instruction manual, and a headlamp to aid in nighttime viewing. Library telescopes may be borrowed for up to one week. To place a hold request, visit the Library catalog and search for "telescopes." Hold requests can also be made by calling the library or visiting any of the four NOLS branches in Clallam County.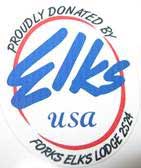 ---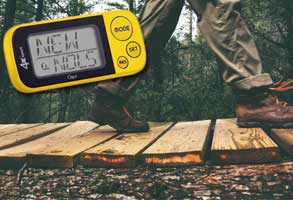 New! Pedometers now available at your Library
Stride toward healthy living with NOLS pedometers, now available for checkout at all Library locations! Whether you're exploring new wilderness trails or strolling through your daily activities, now you can keep track of how many steps you take and calories you burn.
What's inside?
Each pedometer may be borrowed for up to one week, and comes equipped with easy quick-start instructions. To place a hold, call or visit any NOLS branch library, or visit the online catalog.
For additional information about NOLS pedometers and other nontraditional items available for checkout, contact Erin Shield 360.417.8500 ext. 7724, or send an email to .
---
Uncover new resources: iPads now available @ NOLS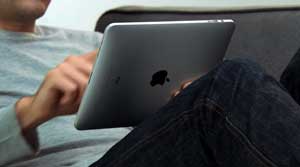 Borrow an iPad tablet to use during your next visit to NOLS!
Library card holders in good-standing may borrow an iPad on a first-come, first-served basis for up to two hours at a time.

The new devices, to be used inside the library, are ideal for research, personal browsing, or to experience the Library's many downloadable resources—including streaming movies, TV shows, and audiobooks.

Questions? Ask NOLS staff for assistance!
---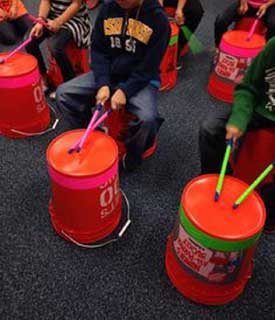 Rhythm Buckets at your Library
Get ready to make some music! Rhythm Buckets for drummers of all ages are now available for checkout at all NOLS library locations. Big Rhythm Buckets for adults and Lil' Rhythm Buckets for younger drummers offer library card holders a fun, free, and easy way to learn while playing the buckets themselves and the assortment of noisemakers inside.
What's inside
Each bucket comes with all the discovery tools you'll need for successful rhythm-making: drum sticks, various hand percussion instruments like shaker eggs, kalimbas, and guiros, as well as music instruction books for both adults and kids. Patrons may borrow each bucket for up to three weeks. To place a hold, call or visit any NOLS branch library, or search the online catalog for "Rhythm Buckets."
For additional information about NOLS Rhythm Buckets and other nontraditional items available for checkout, contact Erin Shield 360.417.8500 ext. 7724, or send an email to .
---
Put your communication in motion!
Two-way radios now available for checkout at your library.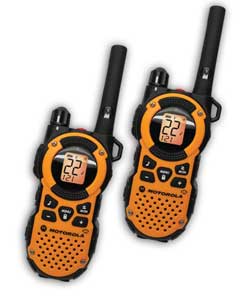 Let the exploring begin! Walkie-talkie two-way radios are now available for checkout at all NOLS library locations. The radios, which patrons may borrow for three weeks, are perfect for camping, hiking, hunting, and other fun adventures.
Each walkie-talkie will operate for up to 10 hours, and comes with rechargeable batteries and a charging station. With a range of up to 35 miles, NOLS two-way radios allow you to roam widely without losing touch. Additional safety features include a built-in flashlight, weatherproof design to prevent dust and moisture from interfering with functionality, and National Oceanic and Atmospheric Administration (NOAA) channels to help keep you alerted to extreme weather conditions like flash floods or blizzards. The radios also come equipped with an optional silent vibrating ringer.
To checkout a set of walkie-talkies, stop by your nearest NOLS library or place a hold by visiting the
library catalog.
More information
For additional information about NOLS walkie-talkies and other nontraditional items available for checkout, contact Erin Shield at 360.417.8500 ext. 7724, or send an email to .
---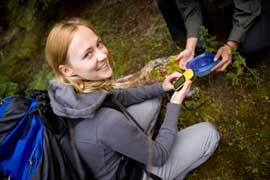 Geocaching Kits at Your Library
Hunt for treasure with a little help from modern technology! NOLS is introducing three geocaching kits that are now available for checkout. Using the global positioning system (GPS) and your wits, geocaching brings together a love of the outdoors and modern tools of navigation. Geocaches may be found anywhere, and the basics of the game are simple: Participants select a cache from a website; after a cache is selected, the coordinates to the location are entered or downloaded onto a GPS device. It is then up to the players to use their navigational and detective skills to seek out the hidden container. Caches may contain simply a logbook for those who've found it, or perhaps a small treasure to share. Participants traditionally leave an item in exchange for any they might take.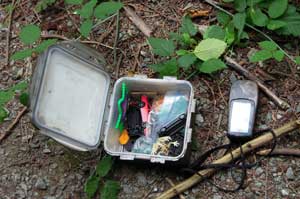 What's inside
Each kit, housed in a backpack donated by Swain's General Store, comes with all the tools you'll need for successful geocaching: a Garmin eTrex10 GPS device, The Complete Idiot's Guide to Geocaching, and a quick start guide. Patrons may borrow each kit for up to three weeks. To reserve a kit, call or visit any NOLS library, or visit the online catalog at www.nols.org.
---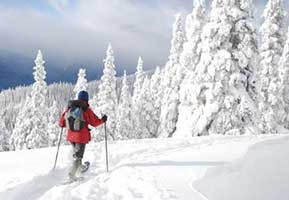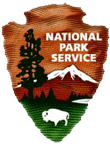 Get Out and Explore Olympic!
Winter is a great time for a new adventure. Olympic National Park and the
North Olympic Library System have teamed up to help local families explore the spectacular national park in our own backyard. Explore Olympic! daypacks are available for check out at any NOLS branch. Daypacks are filled with discovery tools for exploring the park, including trail and field guides, binoculars and reading materials for kids. Families who check out a pack will receive a seven-day entrance to Olympic National Park thanks to a generous donation from Washington's National Park Fund.
---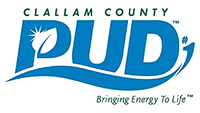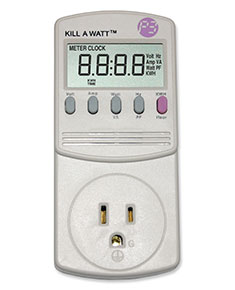 Watt Detectors Available at Your Library
Clallam County PUD and NOLS are partnering to offer residents a way to measure energy use in their homes with Kill-a-Watt™ Energy Detector Toolkits available for check out. The Kill-A-Watt™ device is a "watt detector" used to measure the amount of electricity your household appliances use. It calculates how much energy and money is being spent on an hourly, daily, monthly or yearly basis. Energy use is measured in watts, which translates into kilowatt-hours (kWh), the same unit of measure used on electric bills. Studies show that people using electricity monitors will save between 5-20% on their bill by watching their energy use and making effective changes.
You may check out a Kill-A-Watt™ device for 21 days. Instructions and other energy consumption information will be included in the kit as well as a worksheet for recording your monthly estimated cost for each of your appliances. A manual for the device can be found here.
To checkout a watt detector, stop by your nearest NOLS library or place a hold on one by visiting the library catalog.