Children's Area Closed for Renovation August 3 -29
The Port Angeles Main Library's children's area will be closed Monday, August 3, through Saturday, August 29, while a major renovation of the space is completed. During the closure of the children's area, a small collection of children's items for browsing and checkout will be available elsewhere in the library. Patrons may also continue to place holds on and check out children's material from other branches. The rest of the Port Angeles Main Library will remain open and operate as normal during the renovation project.
After 18 years of heavy use, the children's area has begun to show its age. The closure will allow the children's area to be completely emptied so that aging carpet can be replaced, the walls painted and new electrical work completed. Layout of collection and furnishings will be reconfigured to better meet modern services and customer needs, and furnishings and technology will be updated. One of the more exciting new elements of the remodel will be an interactive learning space specifically designed to teach the Every Child Ready to Read program's Pre-literacy Skills and Practices and STEM goals through interactive play.
The renovation project, estimated to cost $40,000, is being funded by the North Olympic Library System, as a planned project of NOLS 2015 Capital Improvement budget. The custom interactive furnishings have been made possible by a very generous $20,000 donation from the Port Angeles Friends of the Library.
For additional information, contact Noah Glaude, Main Library Manager, at or 360.417.8500 x7717.
---
Third Annual Skill Share Fair @ the Port Angeles Main Library
On Saturday, September 19, learn, create, and connect at the Third Annual Skill Share Fair—
a free community expo at the Port Angeles Main Library for learning and teaching practical, handy skills to help foster a more resilient and sustainable community.
The 2015 Fair kicks off at 11am with a series of classes covering topics such as vegetable fermentation, beekeeping, sewing, drawing, and gardening. From noon until 3pm, patrons can visit booths featuring experts from local businesses and organizations. Visit five booths and be entered into a raffle drawing for useful DIY prizes donated by The Country Woodwright, Hartnagel Building Supply, and others.
2015 Class Schedule:
Location: Raymond Carver Room
11am-Noon
Beekeeping
Margaret Depew,
North Olympic Peninsula Bee Keepers Association

The Basics of Vegetable Fermentation
Eliza Winne, Getting Cultured

12:30pm-1:30pm
Hugelkultur
Meggan Uecker,
Waster Reduction Coordinator—Master Gardeners

Drawing for Accuracy- a method that really works!
Melissa Penic

2pm-3pm
Winter Gardening
Muriel Nesbitt, Master Gardeners

Sew Your Own Cuddle Bear
Marilyn Williams & Karen Agee,
Lavender Bleus Chapter of the Appliqué Society
Educational booths featuring local experts
(Noon-3pm)
Beekeeping
Bicycle repair
Canning and Food Preservation
Composting
Community Education
Electrical Safety
Emergency Preparedness
Home brewing
Hugelkultur
Low Impact Development
Sewing
Traditional Woodworking
Weaving
---
Art in the Library at the Port Angeles Main Library
The summer Art in the Library show features bold, mixed media pieces from Clayton Murdach; traditional Lower Elwha carvings by Floyd Cooke, Richard Mike, and Sam Cooke; basketry from Jamie Valadez; and intricate book arts from Jan Dove. The exhibit will be on display at the Library from July 10 to October 7.
The program has been made possible by generous contributions from the Port Angeles Friends of the Library, and also by the efforts of volunteer art coordinator Diane Williams, who schedules the artists and designs the displays. More information about Art in the Library can be found here.
---
Elwha: A River Reborn Traveling Exhibit
The Port Angeles Main Library is proud to present Elwha: A River Reborn, a new traveling exhibit from the Burke Museum, on view from June 1 to August 29.
Based on a book of the same name by Seattle Times reporter Lynda Mapes and photographer Steve Ringman, Elwha explores the people, places, and history behind a remarkable story–and the largest dam removal project ever undertaken. Through first–person accounts, stunning photographs, and informative text printed on free–standing banners, visitors can follow the Elwha's journey from abundant wilderness to economic engine.
Elwha: A River Reborn was developed by the Burke Museum of Natural History and Culture in collaboration with The Seattle Times, Mountaineers Books, and the Lower Elwha Klallam Tribe. The Port Angeles Main Library's presentation of the exhibit is made possible by the generous support of the Port Angeles Friends of the Library.
For information about Elwha: A River Reborn and related programs, contact the Library at 360.417.8500 or send
an email to . The Port Angeles Main Library is located at 2210 South Peabody Street.
---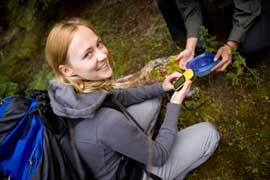 Geocaching Kits at Your Library
Hunt for treasure with a little help from modern technology! NOLS is introducing three geocaching kits that are now available for checkout. Using the global positioning system (GPS) and your wits, geocaching brings together a love of the outdoors and modern tools of navigation. Geocaches may be found anywhere, and the basics of the game are simple: Participants select a cache from a website; after a cache is selected, the coordinates to the location are entered or downloaded onto a GPS device. It is then up to the players to use their navigational and detective skills to seek out the hidden container. Caches may contain simply a logbook for those who've found it, or perhaps a small treasure to share. Participants traditionally leave an item in exchange for any they might take.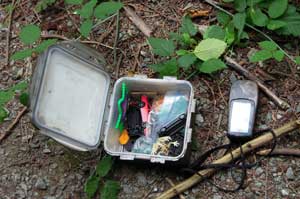 What's inside
Each kit, housed in a backpack donated by Swain's General Store, comes with all the tools you'll need for successful geocaching: a Garmin eTrex10 GPS device, The Complete Idiot's Guide to Geocaching, and a quick start guide. Patrons may borrow each kit for up to three weeks. To reserve a kit, call or visit any NOLS library, or visit the online catalog at www.nols.org.
---
Get Out and Explore Olympic!
Winter is a great time for a new adventure. Olympic National Park and the
North Olympic Library System have teamed up to help local families explore the spectacular national park in our own backyard. Explore Olympic! daypacks are available for check out at any NOLS branch. Daypacks are filled with discovery tools for exploring the park, including trail and field guides, binoculars and reading materials for kids. Families who check out a pack will receive a seven-day entrance to Olympic National Park thanks to a generous donation from Washington's National Park Fund.