Beginning November 12, the Clallam Bay Branch Library will be open Monday through Wednesday from 11am to 7pm, and Thursday through Friday from 10am to 5pm. The Branch will be closed on Saturdays.
Questions? Contact the library by calling 360.963.2414 or send an email to .
---
National Novel Writing Month 2015
Featuring author talks, writing workshops, and weekly write-in sessions to help you reach your goal! NaNoWriMo is a national creative writing program in which participants try to meet the goal of writing a 50,000-word novel during the month of November.
Author Events:
Virtual author talk with Ashley Mackler-Paternostro
Tuesday, November 10, 6pm, Port Angeles Main Branch
Friday, November 13, 6pm, Sequim Branch
Pacific-Northwest-inspired author Ashley Mackler-Paternostro will host an online video at the Port Angeles and Sequim branch libraries to discuss her writing and research process, and how to move beyond the first draft to eventual publication. Although a Midwest native, Mackler-Paternostro left her heart in the PNW; her earlier work, In the After, is set in Joyce. Her novels tell the stories of contemporary families and the strong women at their centers.
Author talk with Sequim's Lindy MacLaine
Friday, November 20, 6pm, Sequim Branch
Local author Lindy MacLaine will discuss her work, the writing process, and answer audience questions. MacLaine is the author of the fantasy adventure series, Piper Pan and Her Merry Band. The first installment, The Curse of the Neverland, was released in March 2015. An avid reader and performer-turned-writer, Lindy is a familiar face at the Sequim Branch Library, where she worked for 5 years.
Picture-book writing workshop with Lisa Mantchev
Saturday, November 21, 10:30am, Port Angeles Main Branch
Local author Lisa Mantchev will discuss the picture-book and novel-writing processes, offer tips from her experience, and introduce writing exercises to help get participants' creative juices flowing. This event is open to all ages.
Weekly Write-Ins:
No previous writing experience necessary! Drop by your library during any scheduled Write-In, grab some coffee, and pull up a chair. You have a great novel in you!
Write-In Schedule:
Clallam Bay Branch Library: Mondays, 3-5pm
Forks Branch Library: Saturdays, 2-4pm
Port Angeles Main Library: Saturdays, 2-4pm
Sequim Branch Library: Mondays, 3-5pm
Guidance and feedback for your work-in-progress
NaNoWriMo participants (and other aspiring novelists) are invited to submit up to 1,000 words of a work-in-progress for professional insight and feedback. All selections will be reviewed by published author Ashley Mackler-Paternostro, who will provide individualized feedback for each selection.
Guidelines:
Submit your work-in-progress between Saturday, November 14 and Saturday, November 21.
Max. 1000 words.
Send submissions to .
Open to all NOLS patrons.
Only the first 30 submissions received will be reviewed.
---
Gingerbread Dwelling Contest
Bring your edible houses, huts, castles, and cabins to the Clallam Bay Library for a chance to win a prize at the library's gingerbread dwelling contest!
Entries will be accepted beginning Monday, December 14, and must be received no later than 4pm on Friday, December 18.
Judging will take place at 4pm on December 18, and prizes will be awarded shortly after.
Rules
Your abode must be totally edible;
Creations can be built from a kit or entirely from scratch;
No pre-made houses, please!
Age Categories
6-and-under
7-12
13-and-up
---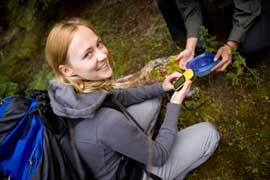 Geocaching Kits at Your Library
Hunt for treasure with a little help from modern technology! NOLS is introducing three geocaching kits that are now available for checkout. Using the global positioning system (GPS) and your wits, geocaching brings together a love of the outdoors and modern tools of navigation. Geocaches may be found anywhere, and the basics of the game are simple: Participants select a cache from a website; after a cache is selected, the coordinates to the location are entered or downloaded onto a GPS device. It is then up to the players to use their navigational and detective skills to seek out the hidden container. Caches may contain simply a logbook for those who've found it, or perhaps a small treasure to share. Participants traditionally leave an item in exchange for any they might take.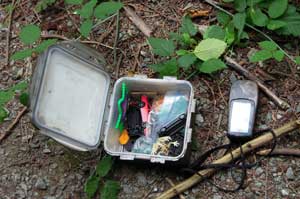 What's inside
Each kit, housed in a backpack donated by Swain's General Store, comes with all the tools you'll need for successful geocaching: a Garmin eTrex10 GPS device, The Complete Idiot's Guide to Geocaching, and a quick start guide. Patrons may borrow each kit for up to three weeks. To reserve a kit, call or visit any NOLS library, or visit the online catalog at www.nols.org.
---
Get Out and Explore Olympic!
Winter is a great time for a new adventure. Olympic National Park and the
North Olympic Library System have teamed up to help local families explore the spectacular national park in our own backyard. Explore Olympic! daypacks are available for check out at any NOLS branch. Daypacks are filled with discovery tools for exploring the park, including trail and field guides, binoculars and reading materials for kids. Families who check out a pack will receive a seven-day entrance to Olympic National Park thanks to a generous donation from Washington's National Park Fund.