---
ASRP: The New Northwest Passage film screening
In this documentary, four men in a small yacht sail through the icy Canadian Arctic where they witness the clash between traditional Inuit culture and the reality of modern Arctic life in a time of climate change. The Northwest Passage is going through massive changes—physical, political, economic and social. The New Northwest Passage documents this little-seen land and follows the crew as they discover the new reality of life in the Arctic.
Clallam Bay Branch, Saturday, July 11, 1pm
This is a 2015 Adult Summer Reading Program event; for additional information about upcoming events, contact Sarah Morrison at 360.417.8500 or .
---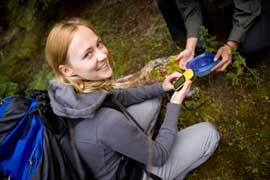 Geocaching Kits at Your Library
Hunt for treasure with a little help from modern technology! NOLS is introducing three geocaching kits that are now available for checkout. Using the global positioning system (GPS) and your wits, geocaching brings together a love of the outdoors and modern tools of navigation. Geocaches may be found anywhere, and the basics of the game are simple: Participants select a cache from a website; after a cache is selected, the coordinates to the location are entered or downloaded onto a GPS device. It is then up to the players to use their navigational and detective skills to seek out the hidden container. Caches may contain simply a logbook for those who've found it, or perhaps a small treasure to share. Participants traditionally leave an item in exchange for any they might take.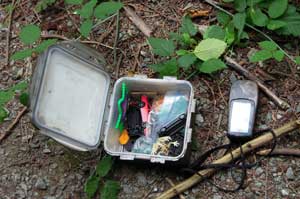 What's inside
Each kit, housed in a backpack donated by Swain's General Store, comes with all the tools you'll need for successful geocaching: a Garmin eTrex10 GPS device, The Complete Idiot's Guide to Geocaching, and a quick start guide. Patrons may borrow each kit for up to three weeks. To reserve a kit, call or visit any NOLS library, or visit the online catalog at www.nols.org.
---
Get Out and Explore Olympic!
Winter is a great time for a new adventure. Olympic National Park and the
North Olympic Library System have teamed up to help local families explore the spectacular national park in our own backyard. Explore Olympic! daypacks are available for check out at any NOLS branch. Daypacks are filled with discovery tools for exploring the park, including trail and field guides, binoculars and reading materials for kids. Families who check out a pack will receive a seven-day entrance to Olympic National Park thanks to a generous donation from Washington's National Park Fund.